Celebrating the Earth: Wild & Scenic offers three events this spring
Just in time for Earth Month 2019, Wild & Scenic is delighted to bring you three special events to welcome spring, inspire your outdoor adventures and environmental activism.

On the Road: The Festival heads to San Francisco!
Join us for a night of the best and brightest films that will transport you to the farthest reaches of the globe. Mix and mingle with special guests, filmmakers and activists during this special event with a backdrop of the jaw-drop gorgeous San Francisco Bay.
Event Info
Wild & Scenic Film Fest On Tour: San Francisco
When: Saturday, April 27, 2019
Where: Cowell Theater at Fort Mason, 2 Marina Boulevard, San Francisco 94123
Time: 7:00PM. Doors and bar open at 6:00PM.
Tickets: Public $20 Advance-$25 Door / SYRCL Members* $18 Advance-$23 Door
All proceeds benefit SYRCL's Wild & Scenic Film Festival.
Tickets can be purchased online through Fort Mason Center.
 Check out the film program HERE. 
For more information about the South Yuba River Citizens League (SYRCL) and to learn how how to become a member to receive discounts to this event and others like it throughout the year.
---
Defending the Sierra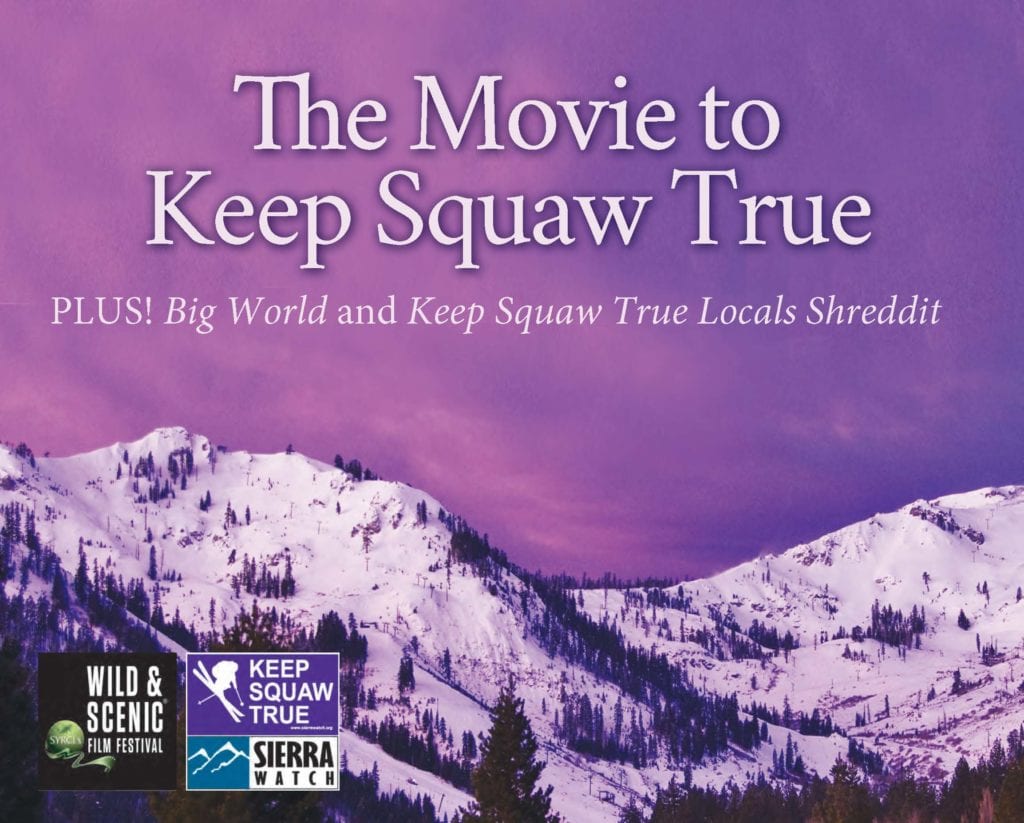 The Movie to Keep Squaw True, a 2019 Wild & Scenic Film Festival Official Selection is back for local audiences! If you missed this important film about protecting our beloved Squaw Valley in Lake Tahoe, now is your chance to pack the house at the Nevada Theatre and show your activist spirit.

Event Info
When: Saturday, March 30, 2019
Where: Nevada Theatre 401 Broad Street, Nevada City
Time: 7:00PM. Doors and bar open at 6:30PM.
Tickets: $15 in advance / $18 at the door.

Enjoy VIP treatment with the KT-22 Ticket! Named for the locally-loved Squaw summit, this ticket includes reserved premium seating, a Keep Squaw True beanie, and a complimentary beer, wine, or cocktail in a Wild & Scenic Klean Kanteen stainless pint cup! $75
About the Film
The Movie to Keep Squaw True tells the epic conservation story of how collectively we can rise up to defend the integrity of an incredible place–Squaw Valley in North Lake Tahoe–against corporate development. It's the story of a seven-year saga to keep a favorite Tahoe mountain from being turned into a Vegas-style amusement park.
The Movie to Keep Squaw True is written and directed by Robb and Scott Gaffney, produced by our friends at Sierra Watch, and features a cast of enthusiastic Tahoe locals and iconic Squaw legends.
In addition, we'll feature the Wild & Scenic Official Selection Big World and a special one-night only screening of the short film, Keep Squaw True Locals Shreddit, featuring Squaw Valley athletes and filmmakers. Be sure to stay for the post screening Q & A with stars, athletes, and filmmakers. More Info HERE.
All proceeds benefit Sierra Watch and SYRCL's Wild & Scenic Film Festival.
Take Action!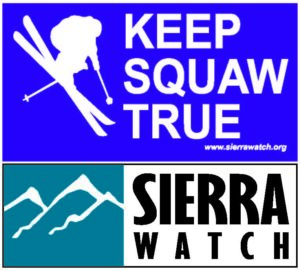 Learn more about Sierra Watch's Keep Squaw True campaign page HERE.
---
Adventure returns with Nevada Theatre Film Series
Adventure returns to Nevada City with a special screening of The Dawn Wall on April 7 as part of the Nevada Theatre Film Series. The Dawn Wall won our 2019 Most Inspiring Adventure Film AND the People's Choice award.
Event Info
When: Sunday, April 7, 2019
Where: Nevada Theatre 401 Broad Street, Nevada City
Time: 7:00PM. Doors and bar open at 6:30PM
Tickets: $12
Proceeds benefit SYRCL's Wild & Scenic Film Festival.

About the Film 
In January 2015, American rock climbers Tommy Caldwell and Kevin Jorgeson captivated the world with their effort to climb The Dawn Wall, a seemingly impossible 3,000 foot rock face in Yosemite National Park, California.
The pair lived on the sheer vertical cliff for 19 days, igniting a frenzy of global media attention.
But for Tommy Caldwell, The Dawn Wall was much more than just a climb. It was the culmination of a lifetime defined by overcoming obstacles. At the age of 22, the climbing prodigy was taken hostage by rebels in Kyrgyzstan. Shortly after, he lost his index finger in an accident, but resolved to come back stronger. When his marriage fell apart, he escaped the pain by fixating on the extraordinary goal of free climbing The Dawn Wall.
Blurring the line between dedication and obsession, Caldwell and his partner Jorgeson spend six years meticulously plotting and practicing their route. On the final attempt, with the world watching, Caldwell is faced with a moment of truth. Should he abandon his partner to fulfill his ultimate dream, or risk his own success for the sake of their friendship?