Make a Film… Make a Difference.
The final deadline was Sept.16th. Submissions for 2023 are now closed.
ABOUT THE FESTIVAL
A production of the South Yuba River Citizens League (SYRCL), Wild & Scenic Film Festival showcases environmental and adventure films that illustrate the earth's beauty, the challenges facing our planet, and the work communities are doing to protect the environment. Through these films, Wild & Scenic both informs people about the state of the world and inspires them to take action. We live by our tagline: "Where activism gets inspired." Our 20th annual event occurred virtually January 12-16, 2022.
ABOUT COVID-19
Wild & Scenic Film Festival staff are in the early planning stages of our 2023 event. We are hopeful that an in-person or hybrid (virtual + in-person) event will be possible. If an in-person event cannot be held for any reason, we will pivot to a virtual festival. Updates will be posted here as more information becomes available and further decisions are made. (Updated 4/11/2022)
ABOUT THE FILMS
Wild & Scenic features environmental and adventure films from around the world that illustrate the earth's beauty, the challenges facing our planet, and the work communities are doing to protect the environment. We welcome shorts and features about nature, community activism, intentional adventure, conservation, health, water, energy, climate change, wildlife, environmental justice, food, and farming. Our objective is to inform, inspire, and ignite solutions and possibilities to restore the earth and human communities while creating a positive future for the next generation through stellar filmmaking, beautiful cinematography, and first-rate storytelling. Films are curated into themed tracks, which pair projects with complimentary subject matter or ideas to create a cinematic journey for audiences.
Each year, filmmakers and activists travel from around the globe to speak to festival-goers following their respective films for Q&A, in workshops held in the festival's activist center, and in talks and chats throughout the weekend. There are many opportunities for filmmakers to connect with peers, audiences, and the press.
While all artwork will be considered, we are especially interested in pieces that interpret our theme this year, CommUNITY. 2023 marks the 40th anniversary of the South Yuba River Citizens League. Founded on the premise that "people can save a river," SYRCL has been uplifting the community by uniting and engaging with local citizens to protect and restore the Yuba River Watershed for decades. With this in mind, Wild & Scenic's theme focuses on the importance of approaching challenges as a unified community, and reflects the significance of grassroots movements in protecting nature for future generations.
Head over to FilmFreeway for submission guidelines:

Environmental Films
Wild & Scenic accepts all films with an environmental theme including documentaries, animation, shorts, features, and narratives. We look for environmental films that are entertaining, educational, and above all inspirational. We want our audiences to be inspired to make a difference in their communities and world.
Adventure Films
Wild & Scenic screens entertaining and inspiring adventure films from all over the world. Topics include climbing, mountaineering, surfing, and more. A special preference is given to adventure films with an environmental focus.
Student Films
Are you a student filmmaker? We encourage you to submit your student environmental and adventure films. We accept documentaries, animation, kids' films, shorts, and even music videos. Your films should be informative, engaging, and inspiring. Project must have been completed by an enrolled student, any level of education.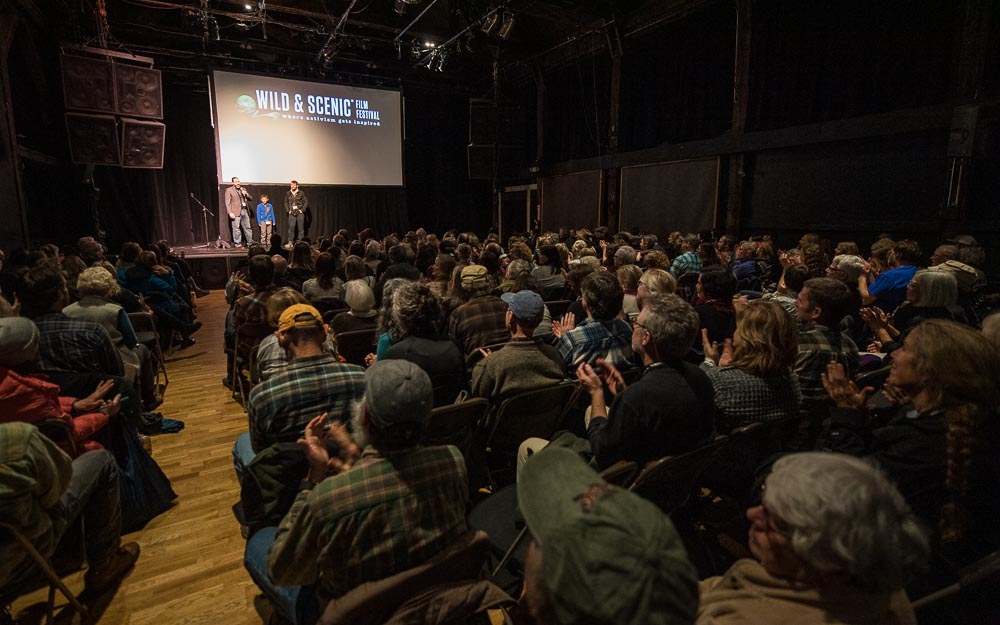 ABOUT DIVERSITY, EQUITY, AND INCLUSION
We cannot fulfill our mission of uniting the community to heal the earth without seeing the intersection of social justice with the environmental movement. If we want a better planet for all, we must invite and include all voices. Please read our Statement of Inclusion about our commitment to diverse programming and a welcoming experience for festival-goers.