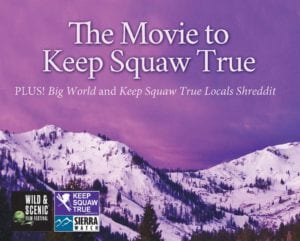 The Movie to Keep Squaw True, a 2019 Wild & Scenic Film Festival Official Selection is back for local audiences! If you missed this important film about protecting our beloved Squaw Valley in Lake Tahoe, now is your chance to pack the house at the Nevada Theatre and show your activist spirit.
Event Info
When: Saturday, March 30, 2019
Where: Nevada Theatre 401 Broad Street, Nevada City
Time: 7:00PM. Doors and bar open at 6:30PM.
Tickets: $15 in advance / $18 at the door.

Enjoy VIP treatment with the KT-22 Ticket! Named for the locally-loved Squaw summit, this ticket includes reserved premium seating, a Keep Squaw True beanie, and a complimentary beer, wine, or cocktail in a Wild & Scenic Klean Kanteen stainless pint cup! $75
About the Film
The Movie to Keep Squaw True tells the epic story of how we rise up to defend the integrity of an incredible place, how we stand up to a private equity Goliath and their corporate henchmen, and how we tap the power of our collective passion to protect Squaw Valley, Lake Tahoe, and the Sierra Nevada. It's a seven-year saga of how we keep a favorite Tahoe mountain from being turned into a Vegas-style amusement park, and it's an inspiring example for conservationists everywhere.
The Movie to Keep Squaw True is written and directed by Robb and Scott Gaffney, produced by our friends at Sierra Watch, and features a cast of enthusiastic Tahoe locals and iconic Squaw legends. Watch the movie and be a part of the movement to Keep Squaw True!
Join us for Wild & Scenic Official Selection Big World and a special one-night only screening of Keep Squaw True Locals Shreddit, featuring Squaw Valley athletes and filmmakers. Following a brief intermission, we will feature The Movie to Keep Squaw True with a post-screening Q & A with stars, athletes and filmmakers (to be announced). More Info HERE.
All proceeds benefit Sierra Watch and SYRCL's Wild & Scenic Film Festival.
Take Action!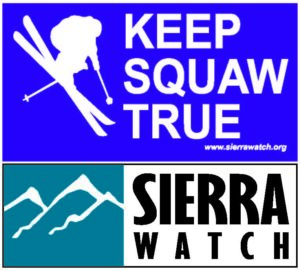 Learn more about Sierra Watch's Keep Squaw True campaign page HERE.