The Movie to Keep Squaw True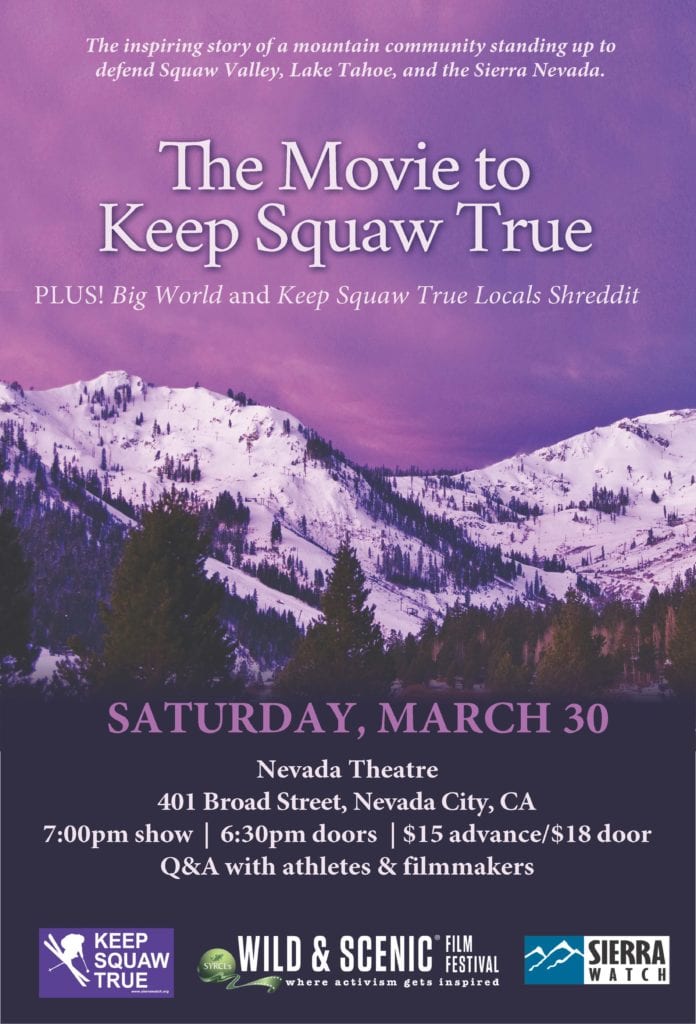 Wild & Scenic Film Festival is excited to announce a special screening in support of Sierra Watch's Keep Squaw True campaign to defend North Lake Tahoe's beloved ski community, Squaw Valley.
Join us for Wild & Scenic Official Selection Big World and a special one-night only screening of Keep Squaw True Locals Shreddit, featuring Squaw Valley athletes and filmmakers. Following a brief intermission, we will feature The Movie to Keep Squaw True with a post-screening Q & A with stars, athletes and filmmakers. Andy Hays and Katy Hover Smoot have been prominent local activists and are also both in The Movie to Keep Squaw True. Andy is one of the featured athletes in the short film, Locals Shreddit.
Tickets on sale March 4.
Event Info
When: Saturday, March 30, 2019
Where: Nevada Theatre 401 Broad Street, Nevada City
Time: 7:00PM. Doors and bar open at 6:30PM.
Tickets: $15 in advance / $18 at the door.

Enjoy VIP treatment with the KT-22 Ticket! Named for the locally-loved Squaw summit, this ticket includes reserved premium seating, a Keep Squaw True beanie, and a complimentary beer, wine, or cocktail in a Wild & Scenic Klean Kanteen stainless pint cup! $75
All proceeds benefit Sierra Watch and SYRCL's Wild & Scenic Film Festival.