Green the City
Kika Tuff, Elana Kimbrell, Rese Cloyd, Matt Talarico, Pete Hoffman | 2021 | 5 min.
2023 Official Selection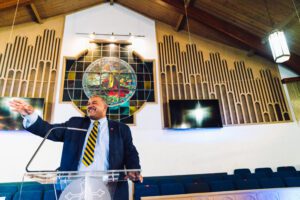 As pastor of the New Northside Missionary Baptist Church in St. Louis, the Reverend Rodrick Burton champions many causes — including renewable energy. Meanwhile, St. Louis Sustainability Director Catherine Werner pushes for energy efficiency and solar workforce programs that support underserved communities. Explore how these efforts come together to help a coal-powered city emerge as an environmental leader.
More information:
www.impactmedialab.com   |   https://howwerespond.aaas.org/