Frequently Asked Festival Questions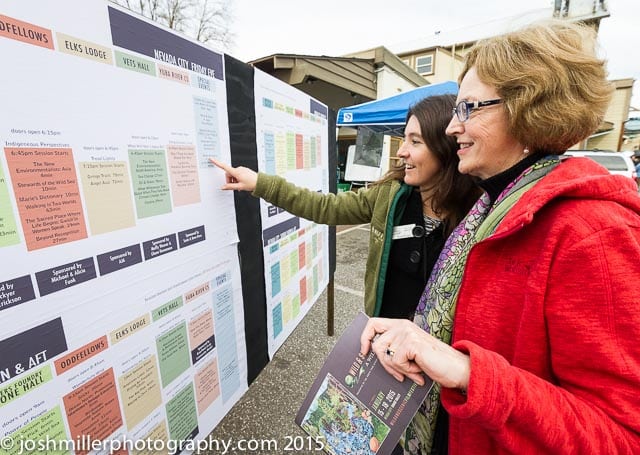 How do I get create my own custom schedule?
Visit the WSFF Eventive schedule page by clicking here. (not live until after December 15th)
What is a Film Session?
A session is a grouping of films shown together in an approximate 2.5 hour block. Wild & Scenic programs sessions in Nevada City and Grass Valley on Friday Evening, Saturday Morning, Saturday Mid-Day, Saturday Afternoon, Saturday Evening, Sunday Morning, Sunday Mid-Day and Sunday Afternoon. When you buy a session ticket you have access to all venues during that session specified by your ticket. But please note, all passholders must buy a separate ticket for the special film events (3D Films, Saturday Morning Kid Films, and Sunday/Monday Night Award Winner screenings). During any given session, there are 7 to 9 venues screening films.
I really want to see a certain film—How can I make sure I get a seat?
Experienced film festival goers know that if there is a film you really want to see, get to that theater early! Even if that film is playing in the middle or the end of a session, get there before the beginning of the session and stay there to make sure you get a seat.  And remember that most films will play more than once throughout the event. All venues open 30 minutes prior to their start time.
Why can't the Festival guarantee me a seat at the film I want to see?
All venues are first-come, first-served. We can guarantee you a seat at one of the venues, but not necessarily at the one you may want. If you arrive at a venue that is full, please check with the volunteers at the door for available seating at other venues.  Currently, the only way to guarantee a seat for the film you want to see, is to support SYRCL at a significant level. Donors contributing more than $6,000 annually receive the benefit of advance reserved seating.
When can I see award-winning films?
A selection of award winning films will play at special screenings on Sunday and Monday evenings. Sunday Award Winner screenings will happen at both Nevada Theatre in Nevada City, and at The Gold Miners Inn in Grass Valley. The Monday Locals night award winners will screen at the Nevada Theatre in Nevada City and Del Oro in Grass Valley on Monday night! *Yes, each night there will be different films screened! Award winners will be announced Sunday afternoon at the Awards Party at Miners Foundry. Visit our tickets page for more information.
There are films I want to see screening at the same time—What should I do?
In an attempt to accommodate this conundrum, the majority of films screen more than once.  And if you still don't get to see everything you want, check SYRCL's Film Library in March to borrow 2023 films (and films from years past) – free for SYRCL members!
How can I meet some of the guest filmmakers and speakers?
One of the coolest things about Wild & Scenic is meeting the great people behind the films. You'll probably bump into them at the venues or around town (look for their special badges), or you can meet filmmakers after sessions and at the Media Lounge. Some of our filmmakers and special guests will also be facilitating Activist Workshops on Saturday & Sunday, which is a great way to get a more intimate sense of their work.
What are the workshops all about?
On Saturday, 9:30am – 6:30pm, and Sunday, 9:30am – 5pm, at the Earthjustice Activist Center (Nevada City's City Hall), you can learn more about the issues presented in the films and how to make a difference. Or, if you are a budding filmmaker, learn the secrets of industry professionals. And did we mention that the workshops are FREE?  There will also be other panels and presentations during film sessions and other locations TBA.
Is there anything else to do?
Yes! We have workshops, coffee talks and fireside chats, food, wine and beer, spontaneous music on the street, incredible art, and more. Be sure to check out all of our special events. There's something for everyone – and many events are FREE. Or, take a break and have fun shopping, eating and drinking in Nevada City and Grass Valley, after all, these are pretty great towns! And, of course, don't forget to visit the Yuba!
Got a little longer?  Visit one of our Featured Eateries like Three Forks Bakery and Brewing Co. in Nevada City or Diego's in Grass Valley for espresso, pizza, salads, sandwiches, gourmet dining, pub fare and ice cream.
The Festival is called "Wild & Scenic," yet many films are not nature or wildlife films—why?
The film festival was named in honor of SYRCL's successful campaign to achieve state Wild & Scenic status for 39 miles of the South Yuba River. That victory took many years, thousands of volunteer hours and dollars and grassroots democracy on the river and at the Capitol. The film festival was born out of that spirit and it continues to be an event that celebrates and inspires activism.

More Festival Hints
Traveling to Nevada County? Check out the Nevada City & Grass Valley websites for lodging, food, and shopping. For more about Nevada County, visit our Around Town page.
Ride your bike, carpool or take public transportation to Wild & Scenic.
Bring your own water bottle and coffee cup (the festival does not sell bottled water). Visit our Greening Page for more tips and information on helping us green Wild & Scenic.
Bring a chair pad.
Help us say "thank you" to the hundreds of volunteers working this weekend – they work long hours to make this event successful!
If you have down time, consider visiting the Yuba River, the inspiration of SYRCL's work and a beloved part of life in the area. The closest and easiest point to access is the 49 crossing off Highway 49, 10-15 minutes drive from downtown Nevada City.