In response to the COVID-19 pandemic, SYRCL worked tirelessly to find solutions that would allow us to continue bringing the Wild & Scenic Film Festival On Tour to communities across the nation. We are excited to share that we successfully adapted the On Tour Program to the virtual space while hosting 130+ Wild & Scenic events during the 2020 season. This pivot connected our host organizations with their constituents, sponsors, and community – all from the comfort and safety of their own homes!
To find an event near you, view our Upcoming On Tour Events calendar. To learn more or host your own virtual event, contact Resa Huck, Sales Manager, at 530-263-6385 or click here to schedule a call.
Live Virtual Events & Video On Demand 
Hosting a virtual event is a perfect way to equip your community with a way to engage with your organization and support your mission, even during these challenging times.
A Livestream event allows your organization to create a lively, interactive film festival that mirrors the in-person experience. You can have your emcee talk to your audience, discuss your organization's projects and calls to action, incorporate Q&A videos from filmmakers, host a raffle or silent auction, and much more.
With Video on Demand, a full recording of your live event is available to be viewed by your attendees for a limited time, giving you the best of both worlds!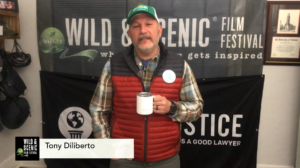 Content for the Community
We may be apart, but we're still in this together. Throughout the year, organizations like yours ask for the help of the community to support their mission and accomplish their goals. Now is a time that your organization can be there for your community!
Utilize options like our School Programs, films paired with an at-home or in-school activity for kids, or add a Feature Film On-Demand Screening to your programming. Your Wild & Scenic Film Festival is a great way to keep your organization connected locally and beyond with engaging and relevant content.