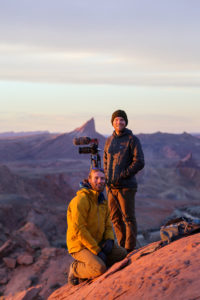 Who are you?
I'm Palmer, and I'm an Oakland, California based filmmaker and the Co-Founder of Spruce Tone Films. My work is rooted in activism and focuses on using the devices at hand in our visual and media culture that can drive our society to make change. I'm super grateful to do this work alongside my filmmaking partner, Matt, and we're privileged to say we've had work screened around the world, on National Geographic, Outside Magazine, PBS and more.
I'm Matt I'm a sound recordist, sound designer, and documentary filmmaker based out of Jackson, Wyoming, and am the proud Co-Founder of Spruce Tone Films. I've worked as a mixer, sound designer, director, and producer on several award-winning documentaries, but have also spent much of my professional career recording, researching, and preserving natural soundscapes. My work has been featured on NPR's All Things Considered, and I also serves as the Executive Director of Wilderness Quiet Parks for Quiet Parks International.
How many films have you had in the festival?
We're grateful to say we've had several film be screened at Wild & Scenic over the years. Our first film was Being Hear in 2017, which shares the work of world-renowned acoustic ecologist Gordon Hempton. The following year we returned with our short Hear Our Olympics which highlights the impact of noise pollution created by Naval activity in the vicinity of Olympic National Park, one of the quietest places in the continental United States. This past year we had the great pleasure of showing Detroit Hives which tells the story of Tim Paule and Nicole Lindsey who are converting vacant lots in Detroit into apiaries or bee farms as well as Venture Out which shares the work of The Venture Out Project, a non profit working to bring LGBTQ folks together outdoors on wilderness trips. It's been a true pleasure bringing all of these stories and films to one of our favorite festivals on the circuit!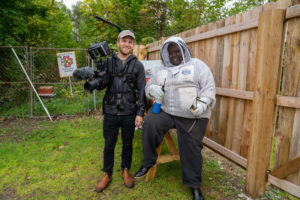 When was your first Wild & Scenic?
Our first Wild & Scenic was in 2017, when we screened our short Being Hear alongside the feature-length film In Pursuit of Silence. We fell in love pretty hard with the festival itself, the community, the comradery, and Nevada City as a whole.
How many times have you attended?
We've been lucky to attend Wild & Scenic on three separate occasions and look forward to attending in years to come!
What is your favorite Wild & Scenic memory?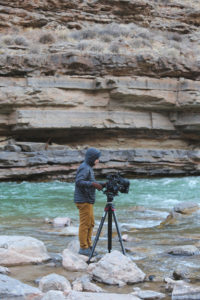 Our first experience at Wild & Scenic was certainly one of our favorites. We were pretty early on in our careers and trying to find out footing. We had the great opportunity to screen our short Being Hear alongside some of our favorite filmmakers which was such an amazing experience. The venue we screened in was also so beautiful and a wonderful setting to watch films on the big screen!
What makes Wild & Scenic Film Festival special or unique?
We really believe that the "where activism gets inspired" tagline isn't just a super catchy motto. We go to Wild & Scenic to reinvigorate our passion, make connections, and also have a great time! It's a time for us to re-connect with fellow filmmakers and meet new folks from all over. One of our favorite things about Wild & Scenic is that the city truly comes alive throughout the duration of the festival. There are very few other festivals that we've been to quite like Wild & Scenic, and we sing its praises to everyone we can.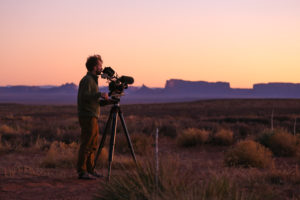 What inspires you to make films?
It's hard to put a finger on why we create films in the first place. It was born with an unwavering desire to spend time outside and also a deep interest in cameras. We both feel that as we've grown personally, our interest in filmmaking has only grown as well. At the end of the day, what perhaps inspires us the most is witnessing the eradication of environmental protections and human rights across the board and the ripple effect of those decisions affecting people we know and love. When we see that happening on a daily basis, we feel no choice but to act in the way we know best- through film.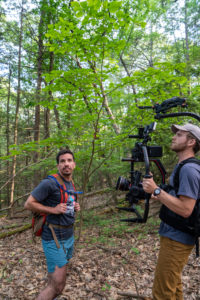 What are your favorite stories to tell?
Of late we've been producing a lot of films about marginalized groups in the outdoor industry and larger environmental movement. We both feel these stories are of utmost importance as we're talking about building a better industry and highlight stories and perspectives that often don't a chance to shine through. In this way, our hope and aim is to lend our privilege and work with communities that deserve a seat at the table in environmental advocacy work. Alongside this work, is our desire to highlight places that need protection. Often times we choose to highlight an individual or organization within a place as a means to create a human-centric approach to large complicated issues facing our public lands and greater environment. We enjoy telling stories that need to be told, elevating voices that need to be heard, and protecting places that need protection.
Do you have any projects you are currently working on?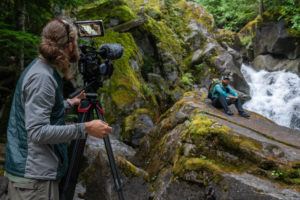 Yes! We just produced a new short with American Rivers and Nite Ize, Water Flows Together. Water Flows Together elevates the importance of acknowledging Indigenous land in outdoor recreation through the voice of Colleen Cooley, one of the few female Diné (Navajo) river guides
on the San Juan River. The film is a meditation on the challenges Colleen and her community have faced, the kinship she has with the San Juan River, and the unique opportunities her role as a river guide affords as she seeks to create positive change. Crossing our fingers we'll be able to bring it to Wild & Scenic this January! Beyond that- unfortunately, our upcoming projects are under wraps but lots of cool stuff coming in
the next year.
How has COVID-19 impacted your filmmaking?
It unfortunately almost completely shut us down until very recently. Everything about filmmaking has changed, from pre-production to distribution. We're still learning how to cope with it, but to say it hasn't been a real struggle would be a lie. Thankfully, it seems like things are picking back up and we're finding ways to adapt and make changes to the ways in which we work.
What is on the horizon for you in 2021?
Getting back into the field! There's a real need to make this type of content now more than ever, and we couldn't be more excited to get back into the swing of producing films.