Kayak
Solène Bosseboeuf, Flore Dechorgnat, Tiphaine Klein, Auguste Lefort, Antoine Rossi | 2021 | 6 min.
2023 Official Selection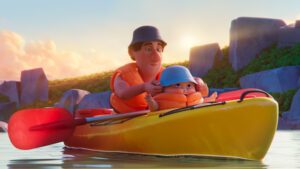 On a peaceful summer day, a dad takes his baby son on a kayak day trip. Between the challenges of a first river outing and the baby's whims the father will not have a relaxing day, especially when an eagle joins the adventure.
More information:
www.miyu.fr/distribution/