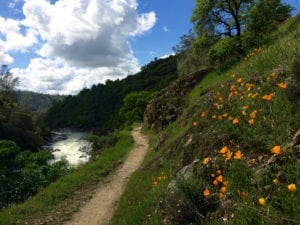 Transforming Film-Goers into Activists
SYRCL's Wild & Scenic Film Festival inspires environmental activism and a love for nature–through film. Wild & Scenic shares an urgent call to action, encouraging festival-goers to learn more about what they can do to save our threatened planet.
Wild & Scenic Film Festival is the largest annual fundraiser for the South Yuba River Citizens League (SYRCL). Locally, we raise funds and awareness to recover California's wild salmon and protect the Yuba River watershed.
Globally, Wild & Scenic On Tour generates critical funds and increases awareness for grassroots environmental causes.
Wild & Scenic Film Festival's Statement of Inclusion

We recognize the intersection of social justice and the environmental movement.
If we want a better planet for all, we must invite and include all voices:
We encourage film and art submissions from all skill-levels, backgrounds, and locations.
We are committed to presenting diverse programming to festival-goers.
We are passionate about amplifying stories from voices and perspectives that often go unheard.
Filmmakers and Artists
Please submit your films and art that showcase the beautiful diversity that makes up our planet.
Financial Help
We do not want submission fees to be a deterrent to anyone. If you have a significant financial need, please reach out. We will work with you to determine if and how we can help. We cannot guarantee fee waivers as the Wild & Scenic Film Festival is a fundraising event. But we will continue to strive toward supporting the work of filmmakers, artists, and activists.
We Welcome Your Feedback
We provide equal opportunities and consideration to all filmmakers and artists. We do not discriminate based on any identity. Thank you for your feedback and suggestions as we strive for more inclusivity.
We appreciate the opportunity to learn and grow. Please reach out and let us know how we can improve. Connect with Festival Staff directly with your feedback or questions. We invite you to read the Statement of Inclusion in its entirety.