For the Wild
Ayana Young from For The Wild spent time with Wild & Scenic Film Festival for a Q & A about her film, When Old Growth Ends.
Her weekly radio program brings you conversations with philosophers, scientists, activists, healers, artists and others who discuss the critical ideas of our time and parlay them into action for the defense and regeneration of natural communities. For the Wild podcasts can be found at www.forthewild.world/podcast/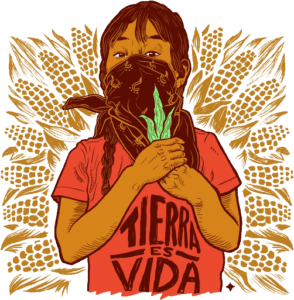 During the 17th Annual Wild & Scenic Film Festival, Ayana Young created an hour-long special live recording Wild & Scenic edition of her podcast, For the Wild, focusing on climate justice.
"We were delighted to join Ada Recinos of EcoViva in a conversation around the connections between ecosystem restoration, political and climate resilience, and food sovereignty in times of extreme instability," said Ayana.
"This powerful conversation spans many topics, from the deep wounds of violence and war to the pertinence of moving beyond sensational rhetoric around caravans and the border wall. Ada reminds us that food sovereignty is at the foundation of liberation and thriving communities. We need to invest in climate resilience, we need leaders who acknowledge that climate change is not only real but is happening now, and we need to confront the ugly mentality of anti-immigrant sentiment that continues to spread pervasively in all sectors of society around the globe. No longer can we allow our understanding of who is granted survival to be dictated by superficial understandings of criminality versus legality or who is born on what side of an ultimately meaningless border," said Ayana.
Listen to this special podcast and learn more about the action you can take here.
Green Radio Hour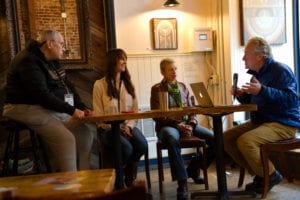 Jon Bowermaster of the Green Radio Hour interviewed Directors Tamo Campos and Jenn Tennican during the 17th Annual Wild & Scenic Film Festival in January, 2019.
Jon Bowermaster won the John de Graaf Environmental Filmmaking Award for Ghost Fleet and Seeds of Hope. His film, Ghost Fleet won the Spirit of Activism Award. He is a longtime fan, supporter and contributor of Wild & Scenic.
Tamo Campos is the director of The Radicals a film that follows a group of professional snowboarders and surfers as they drift from their respective sport into the world of activism. Together, they journey across the West Coast of British Columbia, weaving a story of learning, inspiration, and resistance. From the Tahltan fight for the Iskut Headwaters, BC Hydro's corruption in Xwísten, art as resilience on Haida Gwaii, to a coastal uprising against fish farms off the coast of Vancouver Island, each community teaches the athletes to understand what it means to be a true radical. Tamo was a special Clif Athlete guest during the 17th Annual Wild & Scenic Film Festival Jan 17 – 21.
Jenn Tennican of Jen Ten Productions is a documentary filmmaker, producer and director. Her film, Hearts of Glass, was a 2019 Official Selection. Set in Jackson Hole, Hearts of Glass follows the tumultuous first 15 months of operation of Vertical Harvest, a multi-story, state-of-the-art hydroponic greenhouse that grows crops while providing meaningful jobs for people with disabilities. Innovation meets inclusion in an ambitious experiment to provide year-round produce and employment opportunities in a Wyoming mountain town.