Welcome our new On Tour Events Manager: Lucy Logsdon
We are thrilled to welcome Lucy, the newest member of our Wild & Scenic Film Festival team. Lucy is no stranger to Wild & Scenic as she comes to us from longtime host Ventana Wilderness Alliance where she spearheaded their On Tour event. We're so excited that her experience is rooted in knowing what it means to produce a WSFF On Tour event and know she will help make each and every On Tour event around the country the best it can be. Lucy graciously agreed to answer some questions to help you get to know her better: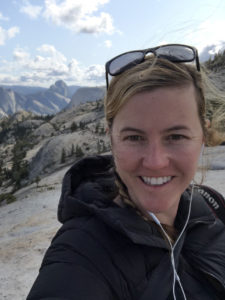 Tell us a little bit about who Lucy Logsdon is.
A Colorado native, I moved to California as a kid and have spent most of my life exploring wild spaces. With a degree in Environmental Studies, I have centered conservation and the environment throughout my career, and I love when I can find ways to use photography and videography to help protect the environment. When not in the office, I can usually be found in the garden, floating in a river, and in the winters, I try to get away to the snow for some snowboarding as often as I can.
What was your introduction to Wild & Scenic Film Festival?
My introduction to WSFF was back in 2015 when I was working for the Video Project, a documentary film distribution company based in San Francisco. Every year we would submit films for Wild & Scenic. Years later, my career took me into the nonprofit sector, working on conservation with the Ventana Wilderness Alliance. There I was able to come back to Wild & Scenic as an On Tour Host. For the last 3 years I have managed On Tour Events in Monterey and Santa Cruz and have enjoyed being able to come up to Nevada City every year for the Flagship Festival.
Why were you interested in this role with Wild & Scenic?
I was excited to join Wild & Scenic as the On Tour Events Program Manager because it is such a great opportunity to work with so many different types of organizations around the country, all of whom recognize the impact that Wild & Scenic can have in their communities. I have seen firsthand the amount of effort that On Tour hosts put into their events and I look forward to helping facilitate those. Plus, Wild and Scenic is such an amazing festival, with fantastic films and events. I am excited to be returning to the documentary film industry, and with the conservation and environmental themes at Wild & Scenic, this is the perfect combination for me.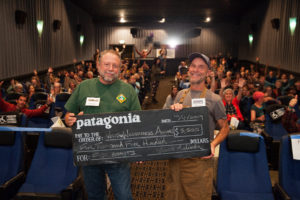 How do you expect your experience at Ventana to impact your new work with Wild & Scenic?
With my experience at the VWA as an On Tour Host, I know firsthand how difficult and rewarding it can be to put on a WSFF event. From venue selection, sponsorship, volunteer management, and so much more, these events can be challenging, particularly for small organizations, to put together. I have always enjoyed that process and I hope that I can help steer organizations as they plan their own events.
What has been your favorite WSFF experience?
I have 2 favorites I would say. At one of our On Tour Events in Santa Cruz with the Ventana Wilderness Alliance, the organization was receiving a grant from Patagonia right around the same time. We arranged to have Patagonia staff at the event, and they presented a large check to some of our key volunteers to support their efforts. During the check presentation we were able to get a photo of the whole auditorium and it felt like such a nice celebration with our whole community.
My second favorite was at the Flagship Festival. Watching the award winners' program on the last night of the festival in 2020 when Honeyland won Best of Festival. It was such a fun night in the theater, with great films, and such an amazing community up in Nevada City. Plus, I have always been really interested in beekeeping, so I loved watching Honeyland.
What are one or two of your favorite films currently On Tour? Why?
From Kurils with Love – This was my top pick this year! It combines great characters, amazing imagery and it is still science based, showing how they use drones to help track populations. It really exemplifies why I am so drawn to short form documentaries. It gives you a view into a part of the natural world that most would never get to experience in their lives.
Still River, Silent Jungle – I love the way this film connects the importance of protecting not only the environment but also the indigenous peoples rights. The parallels that it draws between the violation of humans and the environment is so powerful and at the same time it illustrates the power that people can have when we collectively stand up for what we believe in.