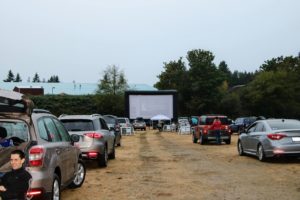 Great Peninsula Conservancy (GPC) has been a Wild & Scenic Film Festival Host since December of 2019.  In 2020, they took a chance with us to put on a virtual WSFF On Tour event and this year, in their third year, hit $75,000 in net profit.  We simply couldn't wait to tell their story.
After a successful virtual event in 2020, GPC determined it best to combine their WSFF event with their old gala and turned this into a hugely successful event.  Great Peninsula Conservancy's 2021 Conservation Celebration; Honoring the conservation of lands and waters and the people working hard to protect them.
Great Peninsula Conservancy  is a non-profit, 501(c)3 land trust working to protect the natural habitats, rural landscapes, and open spaces of the Great Peninsula of west Puget Sound, Washington.
Over the past two decades, GPC has worked closely with partners to protect more than 10,800 acres of ecologically important forests, estuaries, and salmon streams. GPC's work today ensures that tomorrow's environmental decision makers still have open spaces to plan for, protect, and enjoy.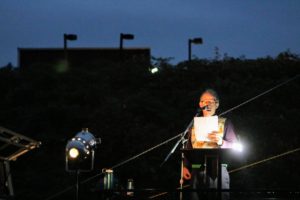 GPC's conservation and stewardship mission is dependent on the support of the communities in its working region. Each year, GPC's annual fundraiser helps to support the purchase and protection of local lands, the ongoing stewardship of over 2,000 protected acres, and the planning of interpretive hikes, lectures, and youth programs that inspire their community to become involved in the future of their local environment.
In 2021, with the support of SYRCL's Wild and Scenic Film Festival, Great Peninsula Conservancy's annual fundraiser took the shape of a drive-in movie night at the Kitsap County Fairgrounds. A socially distanced, outdoor gathering allowed guests to enjoy dinner and a show from the comfort of their vehicles, while a remote participation opportunity allowed other guests to connect with GPC virtually through an online auction and film program.
On the day of the event, after nearly 90 days without rain, the heavens opened up — an auspicious sign! Despite the showers,160 community members showed up to support their local land trust! Live music, good food, and great company kept spirits bright. As dusk fell, Great Peninsula Conservancy's traditional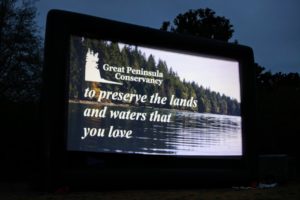 program began including stories from the land, an awards ceremony, and an inspiring keynote address from David Williams author of Homewaters. The event culminated in a showing of hand-picked WSFF films reflecting the regional interests and conservation values of GPC members on a 40-foot wide screen! All told, the event raised over $75,000 to support Great Peninsula Conservancy's conservation mission!
GPC staff are thankful for the opportunity to have worked with SYRCL and WSFF staff to make this event possible. During an otherwise challenging year for event planning, you all  made it easy! Many thanks!