Films for Social Distancing
All across the globe humans are feeling the impacts of COVID-19 and the social distancing and time at home that come with it.  With this in mind, we couldn't think of a better time to share some past Wild & Scenic Official Selections with you. We plan to put a new film up every few days so be sure to check back in here. We hope you all enjoy these momentary respites from the news of the day and wish you the very best as you navigate these challenging times. Click on the image to open the video.
We are happy to provide these films at no cost as a thank you to our fans and as a service to the community. We hope you will consider supporting our work by donating and/or subscribing to our newsletter.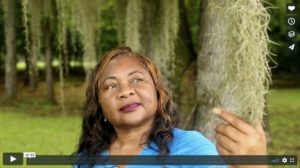 "The Accidental Environmentalist: Catherine Flowers" – Ellen Esling | 2018 | 10 min. | 2019 Official Selection
A mosquito bite decades ago leads Catherine Coleman Flowers on her life's journey. The second film in the Southern Exposure series, this captivating film brings viewers into the world of Flowers, a Lowndes County, Alabama activist who became passionate about the environment when she found out that tropical diseases, like hookworm, were showing up in her community because of sewage treatment problems. Her journey to solve problems at the intersection of poverty, climate change, and politics has taken her from the Alabama Black Belt to Washington, D.C. to Switzerland and back.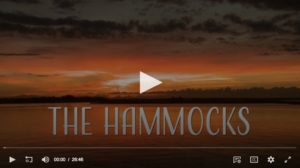 "The Hammocks" – Michael O'Connell, Rachel Raney | 2018 | 27 min. | 2019 Official Selection
While an early generation of climbers was summiting Everest and enjoying Yosemite's spectacular beauty in the 1950s, African Americans couldn't gain access to beaches in America. The Hammocks tells the story of a defiant friendship between Dr. Williams Sharpe and African American outdoorsman John Hurst. The friendship itself was an act of resistance and the subsequent story of a coastal Barrier Island's journey to its place as a pristine Jewel on North Carolinas Coast is surely inspiring. This is a story of how African Americans asserted their rights not only to open school lunch counters and public spaces, but also recreational wild places.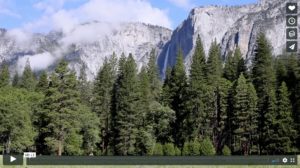 "Diversity and Inclusion in our Wild Spaces" – Jason Fitzpatrick | 2015 | 8 min. | 2016 Official Selection
A campfire discussion on improving the diversity of both the visitation and the employment within our parks and wild spaces happened last May in Yosemite National Park. A gathering of extraordinary people from non-profit agencies, land management bureaus and those involved in the movement to encourage more people of color to visit and seek careers in the outdoors brings light to important issues facing today's conservation movement and outdoor recreation.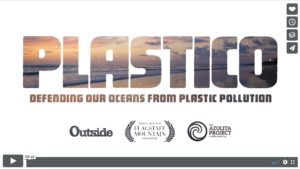 "Plastico" – James Q Martin | 2016 | 9 min. | 2017 Official Selection
Beach communities around the world suffer from an abundance of plastic that tragically ends up in the oceans at an alarming rate – over 8 million metric tons per year. Join the founders of the Azulita Project, as they share information on how a small community is making a difference.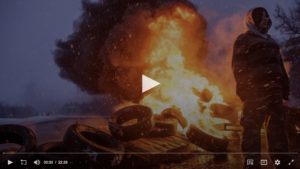 "Water Warriors" – Michael Premo | 2017 | 22 min. | 2018 Official Selection and Winner of "Best in Theme"
In 2013, Texas-based SWN Resources arrived in New Brunswick, Canada to explore for natural gas. In response, a multicultural group of unlikely warriors–including members of the Mi'kmaq Elsipogtog First Nation, French-speaking Acadians and white, English-speaking families–set up a series of road blockades, preventing exploration. After months of resistance, their efforts not only halted drilling; they elected a new government and won an indefinite moratorium on fracking in the province.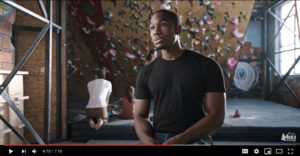 "Brothers of Climbing" – Jason Zemlicka, Jamie Hubbard, Duncan Sullivan | 2017 | 7 min. | 2018 Official Selection
How can you be what you can't see? Mikhail Martin, co-founder of Brothers of Climbing said, "I literally typed, 'Are there black climbers?' in Google … someone said, 'black people don't climb.'" A small group of climbers began to challenge that thought. The Brothers of Climbing is a crew that's making the climbing community more welcoming. Watch to see how they created a community where one wasn't.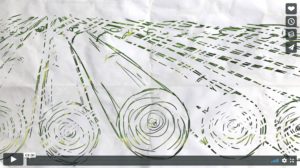 "Awaskinawason" – Antony Dubé | 2015 | 3 min. | 2018 Official Selection | *Kid Friendly, 2018 School Program
"Awaskinawason" is made up of the Atikamekw words awacic (child), aski (earth) and takonawason (having the responsibility for). This animated short calls on us to respect the great circle of life.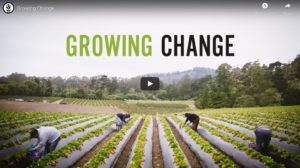 "Growing Change" – Chris Jordan-Bloch | 2016 | 4 min. | 2017 Official Selection
Jim Cochran arrived at work before dawn. He walked out into the strawberry fields. As the sun rose and light hit the field, he began to smell chemicals. His eyes watered. His head spun. He started to shake. He had just walked into a field that had been sprayed with pesticides. From this experience, Jim Cochran helped invent the organic strawberry industry. After pioneering and profiting from a healthier crop, he turned his attention to the health of his workers. Presented by Earthjustice.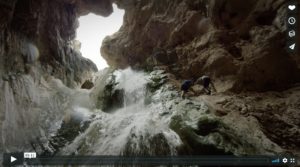 "In Current" – Ryan Heffernan, Grayson Schaffer, Ben Knight, Talweg Creative | 2015 | 5 min. | 2016 Official Selection
Rowing a dory in the Grand Canyon is considered by some as the most coveted job in the world. It can take 20 years of paying your dues to earn a seat on one of these legendary wooden boats. Amber Shannon has been boating the Grand Canyon nine years, trying to work her way from the baggage boat to a dory, while spending as many days possible in current.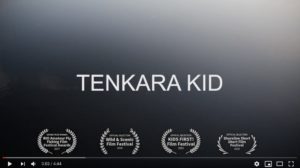 "Tenkara Kid" – Mark Steudel | 2017 | 5 min. | 2018 Official Selection | *Kid Friendly, 2018 K-4 School Program 
This film hearkens back to the time in our youth when fishing gear was easily carried in one hand, when we measured our trips in steps, when each fish mattered and every species was relished. This film is a reminder to preserve these waters for the generations to come.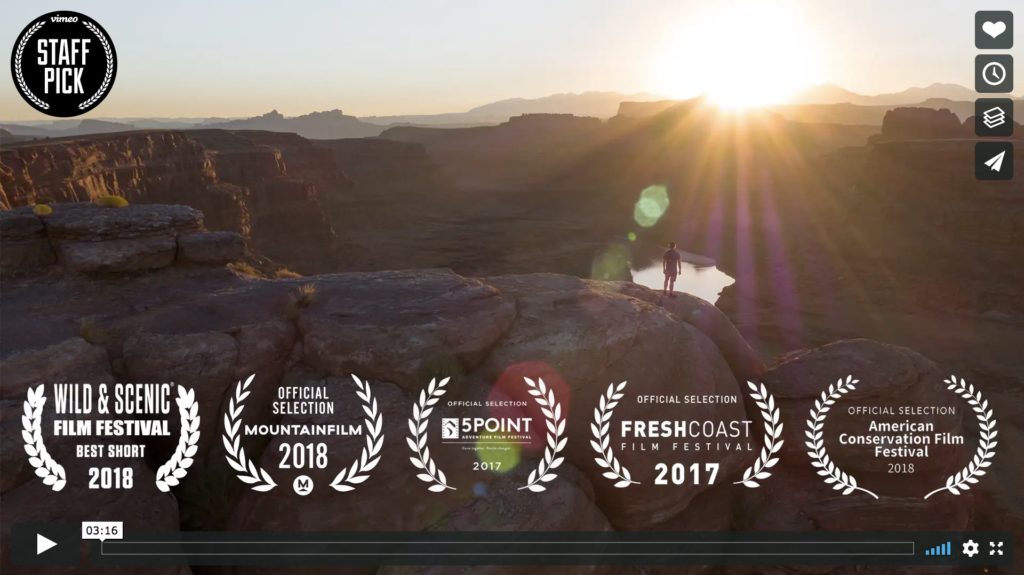 "A Letter to Congress" – Chris Newman, Amani King, Dalia Burde | 2017 | 3 min. |2018 Official Selection | Award Winner: Best Short
Wallace Stegner's 1960 letter to Congress about the importance of wilderness is the framework for a new message, one in which ourunified voice can help prevent the transfer of our most valuable heritage— our public lands— to private and corporate interests.  Made in partnership with Hipcamp.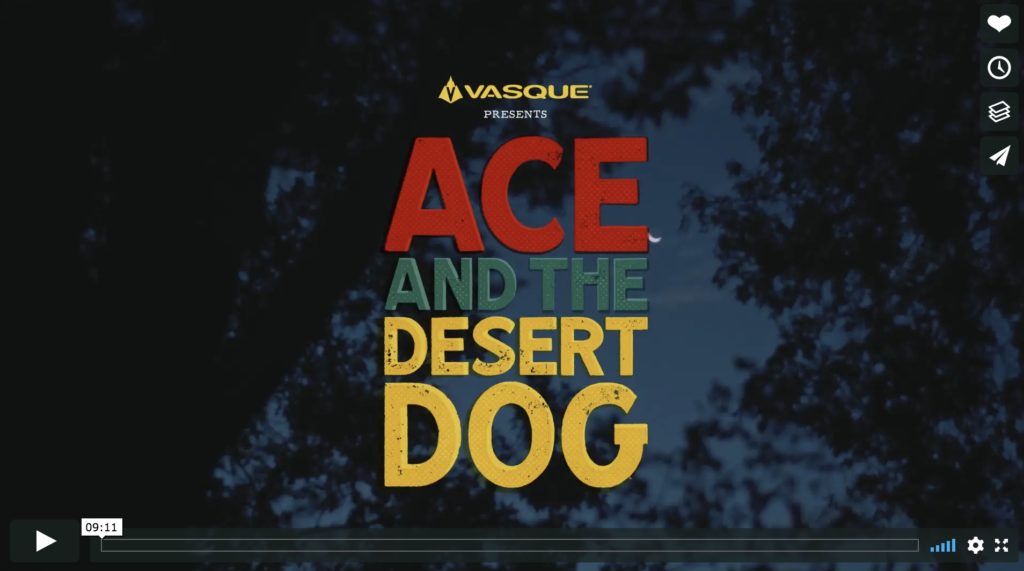 "Ace and the Desert Dog" – Brendan Leonard, Forest Woodward, Stefan Hunt, Joe Peters, Max Lowe | 2015 | 9 min. | 2017 Official Selection
For his 60th birthday, adventure photographer Ace Kvale and his dog, Genghis Khan, set out for a 60-day backpacking trip in Utah's canyon country. The pair tells the story of their trek, friendship, and Genghis records it on his Desert Dawg Adventure Blawg.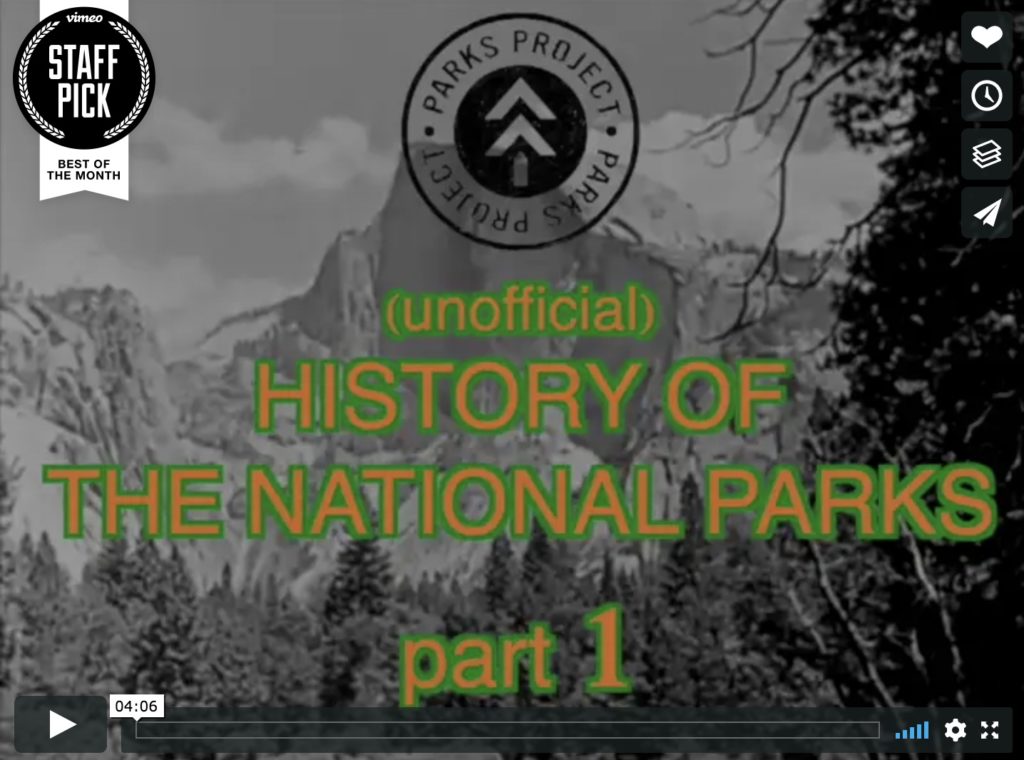 "(unofficial) History of the National Parks" – Ryan Maxey | 2016 | 4 min. | 2018 Official Selection
National Parks are hard.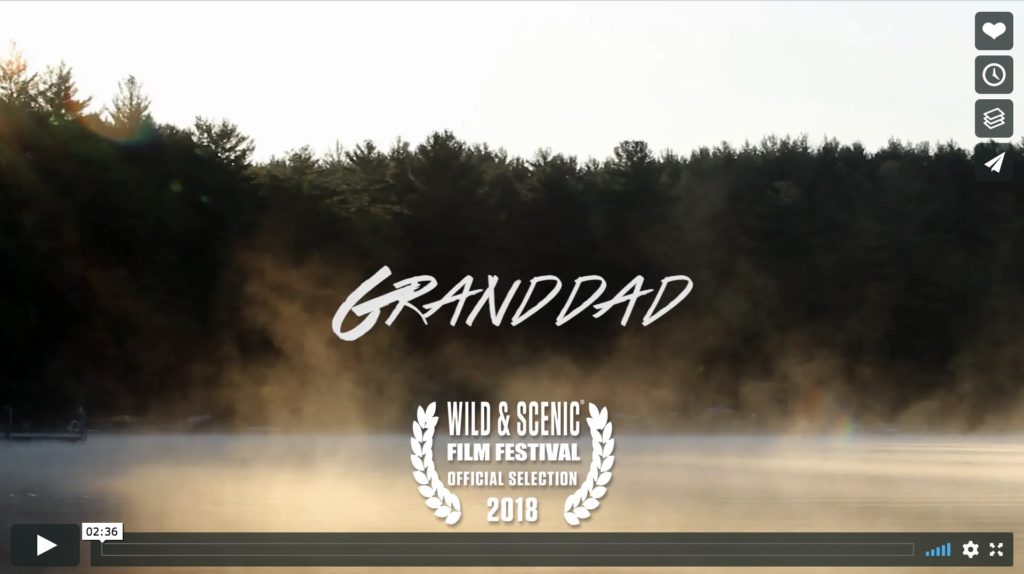 "Granddad" – Corey Robinson | 2016 | 3 min. | 2018 Official Selection
Every morning in the summer, Granddad rises at dawn to row twice around the lake. Join him on his morning meditation.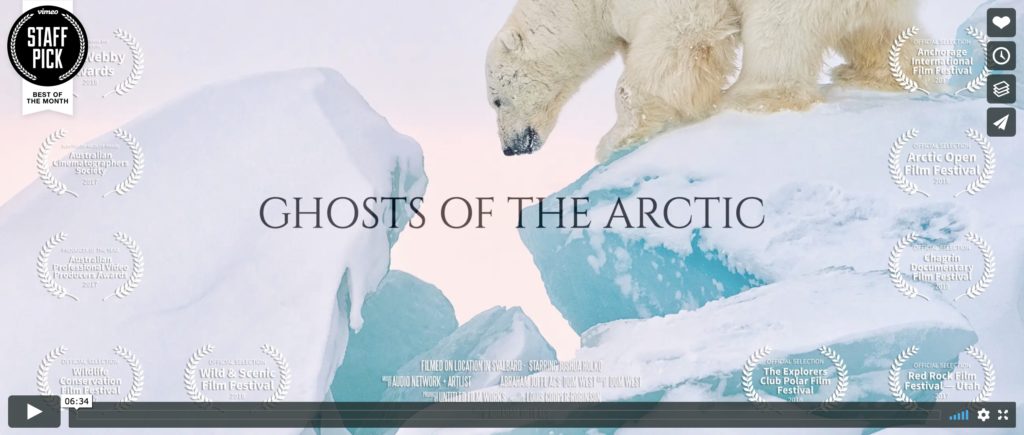 "Ghosts of the Arctic" – Abraham Joffe | 2017 | 7 min. | 2018 Official Selection
Follow the grit and determination of polar photographer Joshua Holko as he traverses the frozen landscape of Svalbard, in the high Arctic, to encounter polar bears on foot. Taking place during one of the coldest periods in the last few years, the crew suffered frostbite and camera failures during the filming process. The aerials featured in the film do great justice to the stark beauty of the arctic landscape.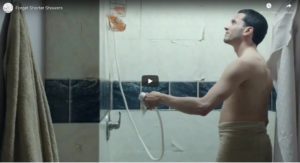 "Forget Shorter Showers" – Jordan Brown, Derrick Jensen | 2015 | 11 min. | 2017 Official Selection
Would any sane person think dumpster diving would have stopped Hitler, or that composting would have ended slavery or brought about the eight-hour workday; or that chopping wood and carrying water would have gotten people out of Tsarist prisons; or that dancing around a fire would have helped put in place the Voting Rights Act of 1957 or the Civil Rights Act of 1964? Then why now, with all the world at stake, do so many people retreat into these entirely personal "solutions"?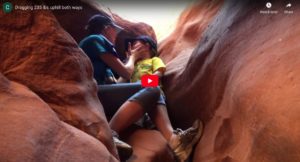 "Dragging 235 lbs Uphill Both Ways" – Christina Franklin | 2017 | 8 min. | 2018 Official Selection | *Kid Friendly, 2018 Sat. Morning Kids Program
The next generation is becoming increasingly plugged in to electronics and out of touch with the outdoors. This will have enormous effects on future conservationism. A mother of four kids decides to turn off the screens and make a change. Though challenging, her kids go from fearing and ignoring nature to understanding and loving it.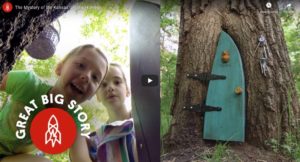 "The Gnomist" – Sharon Liese, Cynthia Wade, Ty Jones, Jeremy Carr, Samantha Hake | 18min | 2017 Official Selection | *Kid Friendly, 2017 Award Winner: Best Kids Film
"The Gnomist" a true story about the mysterious appearance of fairy homes in a suburban forest and the magical experience shared by three women.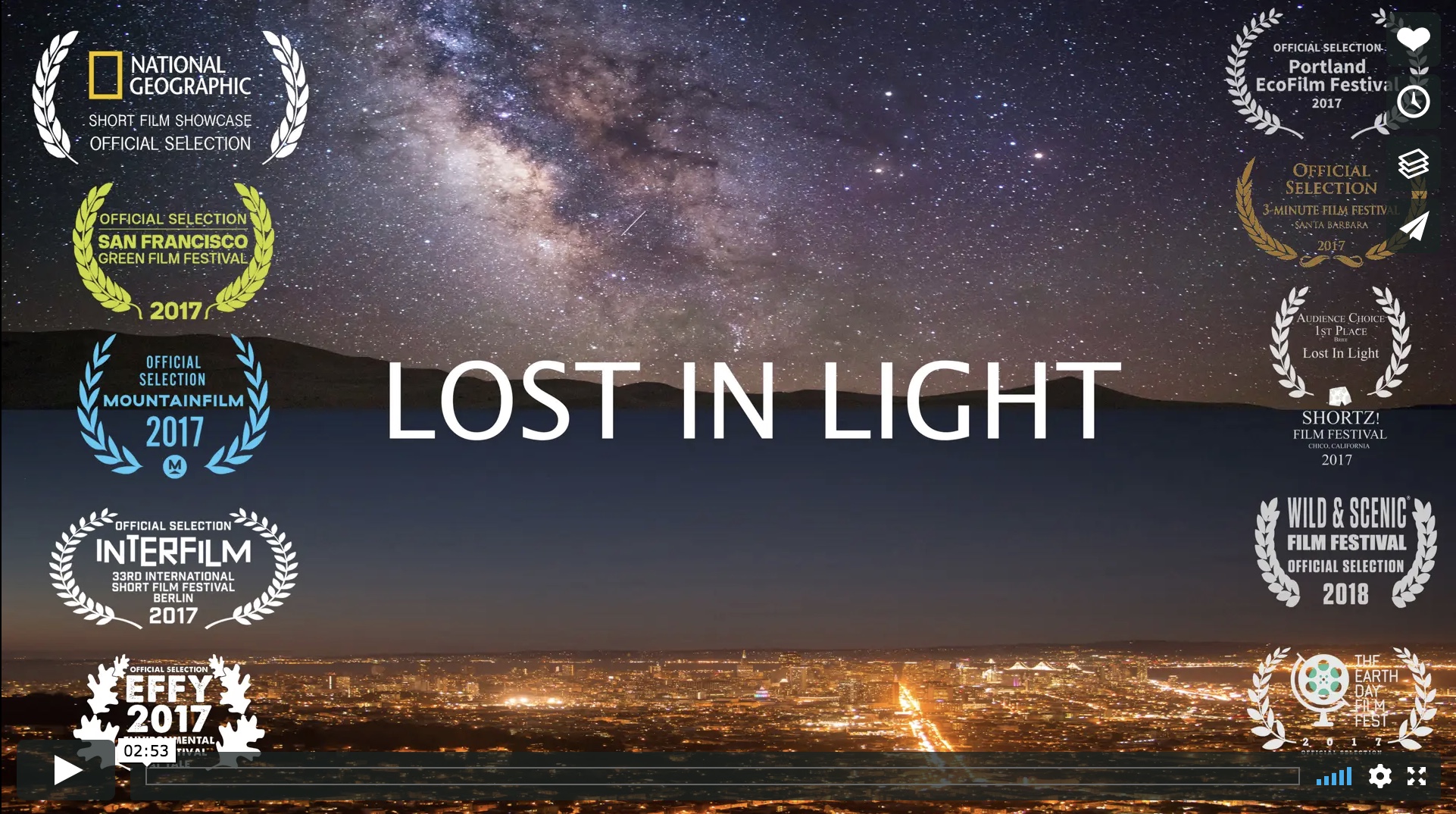 "Lost in Light" – Sriram Murali | 2016 | 3 min. | 2018 Official Selection
"Lost in Light" is a short film on how light pollution affects the view of the night skies. Shot mostly in California, this piece shows how the night sky view gets progressively better as you move away from the lights: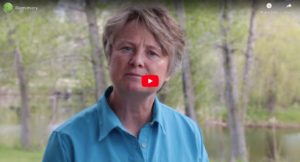 "Biomimicry" – Janine Benyus, Leonardo DiCaprio, Oliver Stanton, Leila Conners, Tree Media | 2015 | 22 min. | 2018 Official Selection
"Biomimicry", the practice of looking deeply into nature for solutions to engineering, design and other challenges, has inspired a film about it's ground-breaking vision for creating a long-term, sustainable world. This film covers how mimicking nature solves some of our most pressing problems, from reducing carbon emissions to saving water: