Collin Monda | 2018
2019 Official Selection
56 minutes
Craig Rowe is the new Communications Coordinator for Wild & Scenic Film Festival. He has been working as a freelance writer and marketing consultant for 10 years, and has experience in non-profit communications and wilderness guiding. You can learn more about him below; this is his first Wild & Scenic Staff Pick.
Synopsis: Death threats, court battles, and an iconic endangered species in the middle, The Trouble With Wolves takes an up-close look at the most heated and controversial wildlife conservation debate of our time. The film aims to find out whether coexistence is really possible by hearing from the people directly involved.
---
Like a Marvel movie to an adult who grew up trying to convince his friends that comic books were cool, to me, every wolf movie is a good movie. My bias isn't hidden.
However, filmmaker Collin Monda's admirable goal of staying neutral on an intensely controversial subject remains intact throughout the film, so much so that I'm still curious about where Abby Nelson stands on the matter. She's Montana Fish, Wildlife, and Park's Wolf Specialist. Monda's off-screen questioning appears to be minimal, as he lets his subjects magnanimously explain what matters, what doesn't, and why.
While we know ranchers aren't fond of canis lupus, and that Yellowstone's indefatigable Doug Smith is always ready to chat about the topic, the presence of Nelson's stoic demeanor reminds viewers that not everyone involved with wolves is black or white on the matter.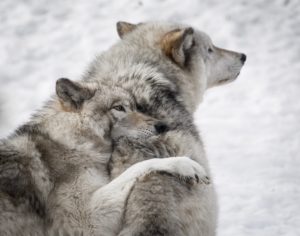 The presence of open-minded Tom Miner Basin-ranchers Andrew Anderson and Hilary Zaranek, fresh out of a Madison Avenue-imagined magazine spread for available property at the Yellowstone Club, provided a farm-fresh take on how today's younger ranchers aren't as quick to dismiss wolves as enemy #1, and that there's value in the challenges wilderness offers them. This interview was a good get for Monda.
There are some slick animated explainer inserts, and Monda's penchant for establishing shots make me hope he has more opportunities to tell stories from behind the camera.
One informative nugget introduced by Smith and ecologist-slash-wolf tour guide Nathan Varley, is how the instinctual herding reaction of cattle in the midst of a predator has been largely eliminated by modern ranching and breeding efforts. This is embarrassingly illustrated by rancher and hunting guide Bill Hoppe when his cows flee in a panic at the mere presence of a camera crew.
The production quality and subject matter make The Trouble With Wolves an easy, enjoyable hour of your time, especially when the camera pans across the open landscapes of the Yellowstone ecosystem. This is an ongoing, Sysphean debate, it may not ever get its proverbial boulder over the crest, but movies like The Trouble With Wolves can certainly help educate more people on why.
---
If you're nearby the South Yuba River Citizen League office, you have the opportunity to borrow this film plus over 100 other titles from this year's festival in our film library.  The film library is open and free to all active SYRCL members. Not sure if you are a member? Call Eric Robins at 530-265-5961 ext 220 to check your membership status. To join or renew, please visit Membership for more information.
The Trouble With Wolves is a 2019 On Tour film, so catch it at your local Wild & Scenic Film Festival On-Tour event!
Want to bring Wild and Scenic Film Festival to your own community? Give us a call at (530) 265-5961 ext 204.
---
Meet Craig, Wild & Scenic's new Communications Coordinator
Joining Wild & Scenic Film Festival in August, Craig Rowe has a long history in public outreach and non-profit communications, and will serve as WSFF's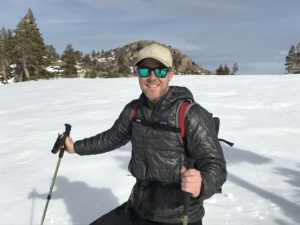 Communications Coordinator. The job involves, among other things, coordinating communications, and writing things in third person.
Craig hails from a small town south of Rochester, in upstate New York. If you ask anyone who lives in New York City, "upstate" refers to any place not in New York City. That couldn't be more true in this case. He's from a town called Caledonia. It's small, as you might imagine, and has good football (he played soccer), but its spring-fed, trout-filled creeks and universally accepted free-range parenting practices inspired a sense of adventure in our hero. He romped and ambled, skinned his knees, and rode a BMX bike like a fifth Horsemen of the Apocalypse.
Come the difficult onset of adulthood, Craig found himself married to an equally adventurous gal. But unlike him, she could plan and do organizing things. Hiking and backpacking trips out west ensued. Before they knew it, they were living and hiking in the southwest from Las Vegas, and Craig took work as Grand Canyon backpacking guide and freelance writer.
Walled-in beige stucco neighborhoods and gambling addiction not being their things, the couple pursued season changes, unreasonably long winters, and lakes built by nature, not greed. Truckee won out in 2015, and they've happily (mostly) been shoveling since. Along the way the couple had a beautiful bouncing black-tri miniature Australian Shepherd named Ranger. At 45 lbs. he's anything but miniature. Or quiet.
In short, Craig is very passionate about the environment, its hairier inhabitants, and pursuing work that makes a difference, not always a profit. He snowboards, climbs sometimes, surfs when he can, co-owns a growing adventure travel company named after the endangered American Pika, and invented a backpacking product called TripTarp. It isn't profitable. But can make a difference.
---