Who are you? (where are you from, where do you live, why did you get into film, whatever you want to tell us really)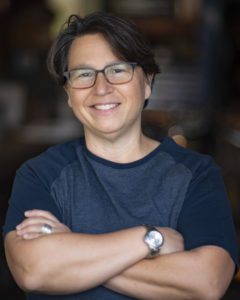 My name is CJ Russo, and I'm a native New Yorker who now calls California home. I've been making films for over twenty years, starting in college and then in graduate school. I was studying art and photography but fell in love with experimental film and found myself drawn to experimenting with image and sound to tell personal stories. At the time, I was influenced by the New Queer Cinema movement and independent film of the 90s, and my short films were starting to get invited to LGBTQ film festivals. When I sat in the theater for the first time with a festival audience watching my short film on the big screen, I realized the power the medium had to reach more people than a photograph on a white gallery wall ever could. So I decided to continue to make films and have enjoyed a long history of festival screenings over the years, coming full circle with my first feature film, "Lady Buds" which put me back in theater audiences across the country, which is one of the greatest rewards of being a filmmaker.
How many films have you had in the festival?
I was honored that "Lady Buds" was selected for the 2021 Festival! It was my first film in the Wild & Scenic Festival of hopefully many more to come!
When was your first Wild & Scenic? 
2021!
How many times have you attended?
Once virtually, for the 2021 Wild & Scenic Festival.  But I'm excited to attend the special Wild & Scenic Event this April in Nevada City!
What makes the Wild & Scenic Film Festival special or unique?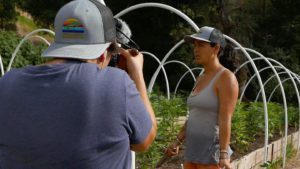 The focus on environmentally-conscious films that have great stories and visuals is what truly makes Wild & Scenic so special. I love the festival's curated programs around a specific theme and knowing the audience and community shares a mutual respect for the environment, science and the beauty of nature.
What inspires you to make films? What are your favorite stories to tell?
I think my curiosity to understand human behavior and the world around me has fueled my creativity and inspired me to tell the stories I tell. I'm passionate about amplifing women and LGBTQ voices that are empowering and inspiring. I love authentic, personal stories of outliers who see the world differently. Filmmaking is a visual medium, so I love creating cinematic images that celebrate the diverse and beautiful world we live in.
What inspired you to make this film?
When adult-use cannabis legalization was on the horizon in California, I knew we were about to witness a massive economic and societal transformation that comes with the birth of an industry, especially living in the state that's the 5th largest economy in the world. With all the news surrounding this landmark moment, I was pleasantly surprised by the large number of women entrepreneurs who were speaking up in the cannabis industry, it seemed like more than any other market I've ever seen. I was curious to learn about their passion for the plant and I was inspired by their dreams of being a part of the newly legal industry, after working in the shadows for decades. Also, when I discovered the little-known history of LGBTQ activism that birthed the medical marijuana movement during the AIDS crisis in the 1990s, I felt I had stumbled upon a really important piece of history that was getting lost in the narrative of legalization. It was a combination of all these findings, personally relating to a hidden world of outliers, and wanting to tell the story no one was telling about the impacts of legalization that compelled me to make this film.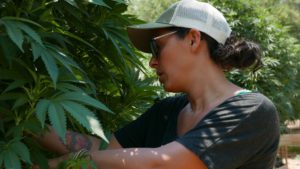 Have you seen any changes with the issues explored since the film began making the rounds?
The film has inspired film festivals to curate panels and events with the women of the film, policymakers and members of the community to create conversations around the challenges the regulations have had on small farmers and businesses and to point out the barriers to entry for people of color. It's also become a focal point in promoting gender equality in the cannabis industry.  We have a long way to go, but it's incredibly rewarding to see the film actively inspiring the conversations and discussions that are a pathway to creating change.
How does being a female filmmaker influence your work?
I aspire to make films and tell stories that are authentic to my voice and life experience. I hope I'm seen as a thoughtful and talented filmmaker, regardless of my gender. I do believe growing up on films and TV shows created mostly from a male perspective has compelled me to focus on stories by and about women because a strong female point of view has been lacking.
Do you have any projects you are currently working on?
I'm developing a handful of docuseries and feature projects, some are "Lady Buds" spin-offs, and others are focused on the environment. I'm also working on a personal script about a group of cyclists who form their own chosen family. They're all inspiring female-focused stories.
How has COVID impacted your filmmaking?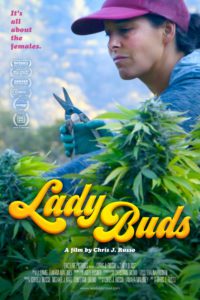 The pandemic caused me to shelf "Lady Buds" for an entire year. We were a month out from our world premiere in 2020, and I had to pull the film because the industry came to a halt and the only options were online film festivals and the distribution landscape was uncertain. I had to do some of the post production process remotely with the composer, live musicians and even color correction during lockdown. It was heartbreaking to have all of the momentum of making the film stop, but it was also a blessing in disguise because I had completely worn myself out making the film and needed to rest.
Filmmaking is a laborious job, so what keeps you motivated?
As an artist, I believe it's my responsibility to tell stories that can challenge viewers to think differently about the world in some way or another. Be it films that give voice to marginalized communities, or focus on environmental issues, or even a story of personal heartbreak, I'm always dreaming up creative projects. Over the course of my life, I've had a variety of jobs, but making films and making art is what I keep coming back to.
What are you currently reading/watching/listening to?
My favorite book at the moment is Fox & I, by Catherine Raven — a beautifully written memoir about a solitary woman and an unconventional relationship with a fox.  I watch a lot of docs and indie films, recent standouts although some are older titles are "CODA," "C'mon C'mon," "My Octopus Teacher," "Crip Camp," and "Andy Warhol Diaries." I also love Ava DuVernay's series, "Queen Sugar." My musical taste is all over the place, from 70s rock to Sharon Jones to the Tedeschi Trucks Band to Claude Debussy, depending on my mood.
What is on the horizon for you in 2022 and beyond?
I'm writing and focusing on the projects I'm developing with my producing partners. I'm also looking for interesting projects to work on that I can produce and direct. My overall goal is to continue to tell inspiring, female-focused stories however possible!
LEARN MORE at https://www.ladybudsmovie.com/