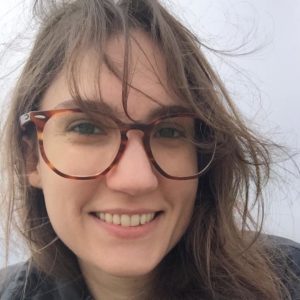 Please join us in welcoming our new Wild & Scenic Film Festival Director, Lívia Campos de Menezes!
Born and raised in São Paulo, Brazil, Lívia is passionate about films and their power to raise awareness for issues that matter. Having a bachelor's in International Relations and a master's in History, she spent 6 years working in operations and market research before pivoting her career to work in the film industry.
In 2014, Lívia returned to school to study Screenwriting and realized that, besides writing her stories, she liked helping others implement their creative visions. With that in mind, she moved to the United States, where she got an MFA in Creative Producing at the University of North Carolina School of the Arts.
After graduating in 2018, Lívia moved to San Francisco and often traveled to assume her seasonal film festival positions. Now, she is excited about settling down in Nevada City and joining the WSFF team to bring the festival back to the theaters in 2022!
Where were you before you joined SYRCL as the Wild & Scenic Film Festival Director?
Six years ago, I decided to make a career change. After years of working in operations and market research, I went back to school to get an MFA in Creative Producing at the UNC School of the Arts. While in graduate school, I started volunteering at film festivals and fell in love with the magic of producing these events. Since 2016 I have been working at several festivals in a variety of positions. In 2021 alone, I worked for the San Francisco International Film Festival, NALIP Media Summit, the United Nations Association Film Festival, and the Mill Valley Film Festival.
What led you to take this position with us?
I am a firm believer in the power of film to move people and bring awareness to issues that matter. I am also a nature lover and amateur landscape photographer. Therefore, the idea of working at a festival that intersects film and environmental activism is a dream come true.
What do you bring to the festival?
Having worked at several film festivals — big and small –, I bring a broad perspective of the film industry and have extensive experience creating unique events. I also bring my Brazilian way of viewing the world and my willingness to learn with SYRCL and its community.
What kinds of films do you enjoy most and why?
I love films that instigate me to learn more about the topic they portray and films that spark new conversations. In summary, films that live beyond the screen.
How do you hope to inspire new audiences to attend the festival?
By promoting WSFF to younger and more diverse audiences, I hope to inspire them to join us for the festival and become activists themselves.