We love it when our friends from Sierra Harvest have an official selection in the festival  – it's super fulfilling to be able to highlight the work our neighbors (literally, we share an office building) are doing in our community. We were pleased to have the opportunity to ask Rachel Berry, Associate Director of Sierra Harvest, some questions recently and hope you enjoy: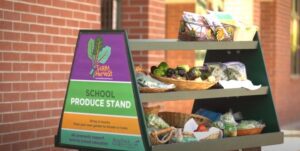 Who are you? (where are you from, where do you live, why did you get into film, whatever you want to tell us really)
Founded in 2008, Sierra Harvest is a grass-roots, non-profit organization based in Nevada County, California.   Our mission is to transform lives and strengthen community through fresh, local, seasonal food. We work with over 9,500 children, dozens of farmers, and thousands of community members by providing farm to school education, supporting farmers to grow food in regenerative ways, and creating equitable access to local foods for everyone. 
How many films have you had in the festival?
We are thrilled to have had 6 of our films included in the WSFF since 2016.
When was your first Wild & Scenic?
We submitted our first film in 2015, "Seeding our Future", filmed in Nevada County, outlining the health crises the next generation is facing if we don't change the way we eat and grow food. We had the amazing fortune to work with local filmmaker Val Camp to bring the story alive.
How many times have you attended?
We've attended every year since 2016!
What makes Wild & Scenic Film Festival special or unique?
It's a lively network of creativity and inspiration – we've experienced that first hand year after year.  The festival is a catalyst where people get engaged in environmental stewardship and take action!
What inspires you to make films? What are your favorite stories to tell?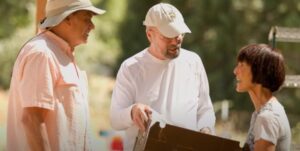 There is nothing like a well-told story in film to inspire people into action!   The films we produce are one of the most impactful ways to demonstrate why equitable access to fresh, healthy food is so critical, and why it's worth investing time and energy into creating local food and farm resilience. We love to tell the stories of how people's lives can be transformed –  a child, a farmer, a retiree –  when they have the resources they need to succeed.    
What inspired you to make this film?
The recent pandemic has made it abundantly clear that access to healthy food is critical to our ability to fight off disease.  It has also shown us that reliance on food that is grown from across the globe will leave us vulnerable in times of crisis.  We produced our 2022 film, Every Bite Counts, because we recognize that strengthening our local food production and having equitable access to healthy food is more critical now than ever before for our community. 
Do you have any projects you are currently working on?
Foothills Fresh is our largest project to date that will show how small rural school districts can collaborate to transform school meals from frozen, processed foods into nutrient dense, delicious meals that delight even finicky students while building equity for thousands of children through daily access to fresh, local food.
How has COVID impacted your filmmaking/Sierra Harvest's work?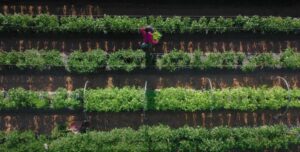 The first year of the pandemic was too restrictive for us to produce a film about our community, but we were really excited to film again in 2021, and were able to work around COVID restrictions pretty easily as we are a small crew and most of our film was shot outdoors.   The biggest logistical challenge for us in 2021 was wildfire season – we were filming at a farm near Chicago Park when we saw the formidable smoke plume from the River Fire.  Several folks on our team had to leave during the shoot to prepare to evacuate their homes, preventing us from getting the footage we planned.  The heavy smoke that persisted for much of that summer made it challenging to get more outdoor footage.
COVID had a greater impact on how we work as an organization. Most our work required gathering people together for training and education, so we learned how to be more creative, more collaborative, and more flexible in what we offer.   Some of these shifts were very frustrating, and some allowed us to craft innovations that we will continue post-pandemic.
Filmmaking is a laborious job, so what keeps you motivated?
Seeing the final product, and especially how it impacts those who watch it, always makes it worthwhile!  We are blessed to work with Val Camp and Kit Kohler, a knock-out team that brings our stories to life with such beauty and emotion.  They work in all kinds of grueling conditions and stay until they know they got the story.
What are you currently reading/watching/listening to?
-Water wars and food production
-Global food crises, corporate giants like Cargill making record profits while more families than ever are struggling to pay the rising cost of food
-Community centric fundraising
-New innovations for supporting young farmers, like SoulFire Farm's Braiding Seeds Fellowship gives beginning farmers training, mentorship and a $50,000 stipend to help them successfully root their farm business
What is on the horizon for you in 2022 and beyond?
-Supporting our staff with self-care plans and practices to help them show up for their family, their colleagues and their community.
-Our programs and services are grounded in justice, equity, diversity and inclusion and yet we realize we have much work to do as we continue to learn about sustained injustices and our role in dismantling them.