2022 Official Selection "An Imperfect Advocate" was created by filmmaker Jim Aikman. We were grateful when Jim agreed to answer some questions for our Filmmaker Feature interview series. Continue reading to learn more about Jim and his filmmaking process:
Who are you? (where are you from, where do you live, why did you get into film, whatever you want to tell us really)
I grew up in mid-Michigan, in a suburb of Lansing, spent my twenties in Boulder, Colorado and now live in Portland, Oregon. I became obsessed with film as a kid and my high school had a phenomenal video program, where I spent as many hours of the school day as I could, producing music videos, short films, PSAs and weekly TV broadcasts. Then I graduated from University of Michigan with degrees in English Lit and Film and thought I'd move to LA to pursue narrative filmmaking, but Planet Earth had just come out and the Banff Film Tour came through Ann Arbor and I felt inspired to chase stories of outdoor adventure. I've now been working in the adventure documentary space since 2008 and look forward to many more years doing this work.
How many films have you had in the festival?
I think An Imperfect Advocate was my third or fourth film in Wild & Scenic, but maybe the first that I directed.
When was your first Wild & Scenic?
I didn't make it in person until 2016, when Martin's Boat screened at the festival.
How many times have you attended?
What makes Wild & Scenic Film Festival special or unique?
Nevada City is a very special place, and somewhere I spent a lot of time before I even heard of the festival. It's a magical little nook in California. The lineup and ethos of Wild & Scenic are also exceptional and make it a unique lineup of films that aren't as stoke-driven as some other festivals.
What inspires you to make films? What are your favorite stories to tell?
People! It all comes down to the human spirit, overcoming odds, challenging one's self and chasing weird dreams. Capturing people's experiences and philosophies is a great privilege and I try to pay that back by creating work that is authentic and meaningful.
What inspired you to make this film?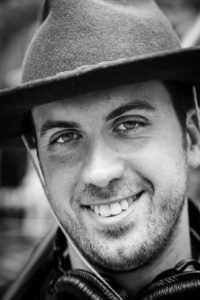 Every film I work on becomes a beloved object, but this one was especially important to me. It's not every day you get to make a film about one of your best friends, somebody I know so well in my life that I could suddenly package into a story that expresses all the things I love most about him. In turn, he gave me the patience and access to tell his story in a certain way. On top of that, Graham's message is really important and this film became a platform for his brand of advocacy, which is now the work that he is doing full time. In the end, it isn't a film about climate change or activism, but about living an examined life and considering all the factors and vulnerabilities of the modern world. It's all a tenuous balance, but Graham navigates it with a grace and optimism that I hope comes through in the film.
Do you have any projects you are currently working on?
Yes! We're very busy. Stories about evolutionary biology, wildlife conservation in Africa, and of course, climbing.
How has COVID impacted your filmmaking?
Things are getting back to normal, but it felt like Covid just became one more challenge in an already fraught environment – we just had to adapt to new protocols and keep working.
Filmmaking is a laborious job, so what keeps you motivated?
Cash money, baby. It's just so lucrative! I don't know why everyone hasn't become a documentary filmmaker chasing impossible passion projects 😉 I'm kidding, but that's a hard question to answer. I guess I don't know how to do anything else at this point. Maybe some day I'll move into the forest and hunt truffles for a living, but for now I like telling stories.
What are you currently reading/watching/listening to?
Haha, I probably listen to three hours of podcasts a day. Everything from news to comedy to true crime. I'm re-reading White Fang and a book called The Lonely City. NYT Arts & Leisure Sunday edition. The Power of the Dog was one of the best films I've seen in years. Jackass Forever was good medicine.
What is on the horizon for you in 2022 and beyond?
Growth. I'm building a new studio/coworking loft in Portland in a historic building right by the river. It's a big space and something I plan to grow into and stay for a while.
Learn more at www.BedrockFilmWorks.com
Follow along on Instagram @bedrockfilmworks and @jimaikman