Who are you? 
Encompass Film is a husband and wife, directing and producing team that resides in Truckee, CA. We make branded content for companies like Black Diamond and Red Bull, as well as short-form environmental and conservation films, many of which have screened at Wild & Scenic over the years. Prior to becoming filmmakers, we were lawyers and environmental biologists, but ultimately we'd rather prosecute our arguments through first-person POV films that relay the first-hand life experiences of our subjects.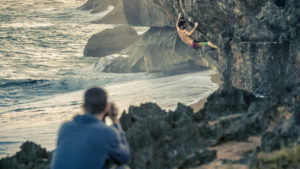 How many films have you had in the festival?
Not sure: Comes With Baggage, Last Call For The Bayou, Above The Alley, Beneath The Sky, Climbing Out of Disaster, maybe more??
When was your first Wild & Scenic?
How many times have you attended?
We've attended the festival 3 times in person.
What is your favorite Wild & Scenic memory?
We really love the casual atmosphere of Wild & Scenic Film Festival, having coffee talks at Three Forks Bakery, and just seeing brand new films that aren't yet available to the public. But last year we had an especially good time when the owner of the Golden Era hosted an impromptu Mezcal tasting for us and a few friends after hearing we were big Mezcal fans.
What makes Wild & Scenic Film Festival special or unique?
Two things make Wild & Scenic special, first is the town of Nevada City and Grass Valley. The people who live there are really big fans of environmentalism and make for the sort of audiences that filmmakers can only dream of. Second is the dedication of the staff and programmers who do so much for such a small team. Every year the whole experience is top notch.
What inspires you to make films?
Documentary film is one of the most interesting ways to inform the public about personal experiences of those who live very different lives from the average viewer. It is an opportunity to bridge cultures and arm-chair travel to places that are often remote or hard to access.
What are your favorite stories to tell?
Our favorite stories to tell are those with big characters who win our hearts over (and who hopefully make it a joy to edit).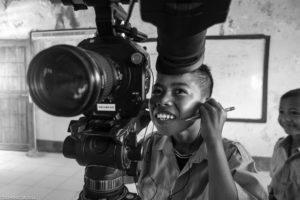 Do you have any projects you are currently working on?
We are just launching a 26-minute film called The Linesman, about human-elephant conflict in Myanmar. And we are about to release a film for Black Diamond Equipment about a rock climbing gym in Memphis, Tennessee that is working to expand access to the sport through offering a pay-as-you-can fee system in a traditionally underserved area of the city.
How has COVID impacted your filmmaking?
We were very lucky in that we sold our last film series Last Call For The Bayou right before Covid and so we used the summer to brainstorm new ideas and pitch projects. We recently started work again about a month ago and are looking forward to seeing what 2021 brings.
What is on the horizon for you in 2021?
We'd like to sink our teeth into a big new project and have a few things early on in the works. We'd like to think about how to tell more local stories so as to lower our environmental impact through filmmaking, something which has been a conflict for us as filmmaking has often taken us all over the world. And while thats been nice, we are sure there are plenty of good stories right in our own backyard.