Sarinah Simons | 2020 | 6 min.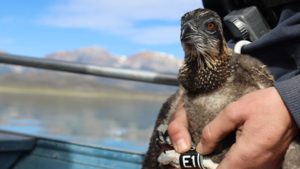 From filmmaker Sarinah Simons: I have yet to meet two bigger bird nerds than Pete and Ashli. Peter Bloom is a raptor ecologist that has not only been working alongside California State Parks, banding ospreys at Mono Lake Tufa State Natural Reserve for upwards of 12 years, but has been banding and working on bird conservation for over 50 years. Ashli Lewis is a wildlife biologist out of the Sierra District who has learned from and worked alongside Pete for many years, and now the two come together every year to band osprey chicks for important research.
While the banding itself is fairly easy, it's getting into the nests and retrieving the chicks that gets tricky. Ashli and Pete use the Mono Lake boat, which State Parks inherited from the Alpine/Mono County Sheriff back in the 1990s to get out onto the lake. It's always an adventure just trying to get this boat to start, since it has been running for decades in water 3 times saltier than the ocean. Then the trick is accessing the tall tufa towers, which are limestone formations created by underwater springs rich in calcium, and then either delicately climbing the tufa itself or using a ladder to bring the large chicks back to the boat for processing and banding. Thankfully, Ashli is an avid rock climber, because the data they collect from these chicks is invaluable to understanding their nesting behavior, territory fidelity, dispersal and distribution as these chicks grow into adult osprey and build nests of their own.
There are about 12 active nests that they monitor, with anywhere from 1-4 chicks per nest site. In July, the chicks are typically just big enough for the bands to fit their legs and after a bit of glue and some patience, the chicks are placed safely back into the nests to be shaded and attended to by their parents.
Even with the sunburns and headaches from keeping the old boat afloat and running, Ashli and Pete enjoy every second of their yearly banding day on the water, and will continue to monitor this population and learn from this valuable research for many years to come.
For more information: