Miranda Currie | 2021 | 11 min.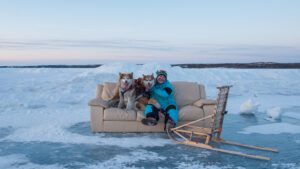 This heart-warming story set in the coldest of climates follows Ellesmere, a fit and instantly loveable Canadian Inuit yearling sled dog as she sets off on her first training expedition and rite of passage.
With the right experience and discipline Ellesmere has the potential to be the next alpha female. She must learn the survival skills from the matriarchs that came before her in order to not only earn, but to defend her position in the dog pack.
​Running on the Great Slave Lake is no easy task. Ellesmere, along with her musher and pack, must navigate strong winds, snowstorms and pack dynamics. Whatever happens, Ellesmere will find that every dog has a place in the pack.
More information:
www.mirandacurrie.ca