Faith E. Briggs, Bimma Williams, BJ Frogozo, Kesshann Cortez, Robert L Hunter | 2022 | 5 min.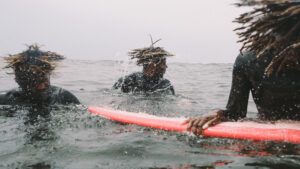 Natasha didn't grow up believing that "Black people don't do that," was going to be a limiting factor in her life. Not only does she ride dirtbikes, skate and surf, she is passionate about sharing those skills with others. Along with her friends at Ebony Beach Club, Natasha is reclaiming waves, introducing others to the ocean, and spreading a love of surfing through her community. Her joy is palpable on each wave and whether it's dipping toes into the water, dancing in the waves, or getting on a board, EBC is creating an inclusive space on the beaches of Los Angeles which is making waves in their community.
Made in partnership with Claima Stories and Sperry, "Reclaim Your Water" is a three-part short documentary series that poignantly highlights how communities of color can reclaim water as a healing and enjoyable experience for all.