Faith E. Briggs, Dani Reyes-Acosta, Sarah Steele | 2022 | 16 min.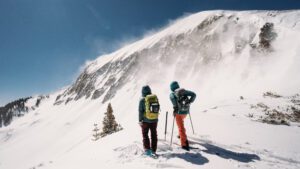 Trust is the foundation of our backcountry relationships: with ourselves, each other, and even the land, these are the spaces that define us. Yet in this process of becoming—alpinists, ski partners, Latinas, ourselves—snowboarder Dani Reyes-Acosta and skier Lani Bruntz learn that the journey isn't just the destination.
We have to believe that our pursuit is not pointless, that our will to survive and thrive takes us somewhere. Maybe, just beyond our pain and suffering, we'll find the redemption of the infinite.
More information:
OutlierFilmSeries.com