Rob McAllister, Ian Webb, Khara Strum, James Cogswell, Lilly Douglas, A R Michael Strategies/Merge Digital Media Joint Production | 2022 | 14 min.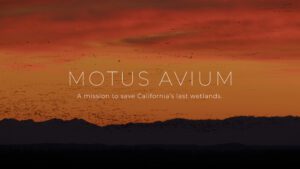 California's wetlands have all but disappeared. But not all hope is lost. A coalition of scientists, farmers, conservationists and public agencies have come together to help restore vital wetlands throughout the state's central valley.
Motus Avium: A Mission to Save California's Last Wetlands reveals how this group is finding unique ways to help support native and migratory birds. What may surprise you is how this group is capturing and studying these wild birds while working with farmers to create new wetland habitat.