Mapping Survival
Ripple Effect Images, Nacho Corbella, Ami Vitale, Mick Davie | 2021 | 32 min.
2022 Official Selection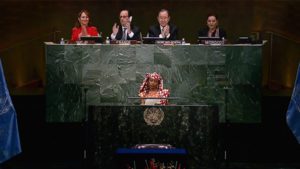 Against the wishes of tribal elders, Hindou Oumarou Ibrahim's mother made enormous sacrifices to send her daughters to school in the capital city of N'Djamena. As she grew older, she observed Lake Chad, once one of the largest lakes in Africa, shrinking significantly and threatening the livelihoods and survival of more than 30 million residents. Moved by the suffering experienced by her people she leveraged her education to become an environmental activist and geographer and is helping solve a long standing conflict in the area.
For more information:
https://www.rippleeffectimages.org/ | http://mappingsurvival.com