Who are you? (where are you from, where do you live, why did you get into film, whatever you want to tell us really)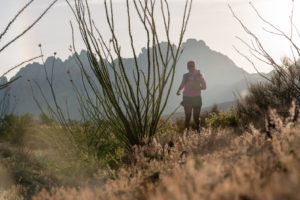 My name is Faith E. Briggs and I live on Multnomah and Chinook ancestral homelands in what is now called Portland, Oregon. I was drawn to film through my work with young people. Seeing how deeply media influenced every aspect of their lives, and this was before social media even existed, made me want to create and offer alternative stories and narratives. Being African American myself and working with you people from historically marginalized communities, I saw that so many of the stories available were negative. I wanted to celebrate who we are and share stories that I knew existed but infrequently saw.
How many films have you had in the festival?
I've produced two films that have played Wild & Scenic, Brotherhood of Skiing in 2019 and This Land in 2021.
When was your first Wild & Scenic?
I had the pleasure of attending my first Wild & Scenic in January 2021! It was such a blast and Nevada City is such a cool place, hope to be back soon!
How many times have you attended?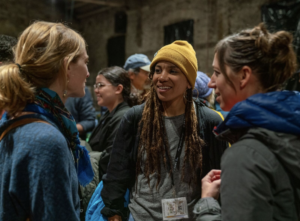 What makes Wild & Scenic Film Festival special or unique?
I love how small the town of Nevada City is, it really comes alive during the festival. You can meet so many other filmmakers, grab a meal, or walk from one screening to the other and really get into their stories and motivations. Being able to meet so many other filmmakers is really special.
What inspires you to make films? What are your favorite stories to tell?
I'm focused on the idea of representation: whose stories are told, why they are told and by whom. I believe that through shared stories and narratives we can better understand each other, which creates stronger threads for the fabric of our society. For me, a story that seems unlikely or unexpected always compels me to dig deeper. Those are my favorite stories, I like to show people folks they can't imagine, or show them folks like themselves, so they know they aren't the only ones.
Do you have any projects you are currently working on?
We're currently working on a podcast and short media series that was born out of our 2021 festival selection This Land, it's called The Trail Ahead, and will continue to dig into conversations at the intersection of environment, race, history and culture.
How has COVID impacted your filmmaking?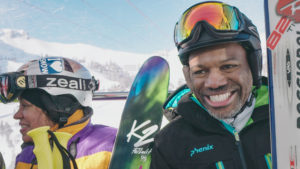 It's hard to talk about how COVID has impacted my filmmaking without thinking about how the pandemic has impacted all of our lives. There has been so much grief, loss, anxiety and uncertainty felt around the world. Like most filmmakers, for the first 3-5 months of the pandemic, all productions were cancelled or paused. I shifted to a lot of online screenings and panels, I'm grateful to festivals who kept moving ahead and supporting filmmakers and our work, making some platform possible even if not in person. This summer I was able to start filming more, pace and deadlines have to be more flexible, I've had to build in time for quarantines and build in budget and time for tests, but I'm grateful for the projects I've been able to do.
What is on the horizon for you in 2021?
I joined Camp 4 Collective in 2021 as a partner and director and I'm really excited about this new creative community.
Keep up to date with Faith: