Hikes, Workshops, Talks & Chats backup
During the festival there are many events other than just films. Below you can see some of the events that took place at the 2020 flagship festival:
EXCURSIONS 
Indigenous Walk on Deer Creek – Saturday, Jan. 18 @ 1pm on Tribute Trail  *SOLD OUT*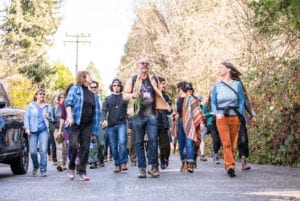 Meet at bench in front of Miners Foundry on Spring Street.
Nature and the human spirit are resilient. That is the timeless theme of this unforgettable three-mile walk and talk along the Deer Creek Tribute Trail. It's a place where the local Nisenan thrived before the Gold Rush era decimated the Tribe, the land, the plants, and animals on which they subsisted. Today, nature and the original people continue to hold on. Hiking for Good founder Laura Petersen will lead hikers into forest to learn about the medicinal and edible plants found along the way. At the "Angkula Seo" suspension bridge, Nevada City Rancheria Tribal Spokesperson Shelly Covert will share language, song, and stories. Shelly will share about interpretive sites and a Nisenan Garden. Bring water, sturdy walking shoes, and layered clothing (dress for the weather!). *This event has reached capacity and is now sold out
 Venture Out with Perry Cohen – Sunday, Jan. 19 @ 1pm on Hirschman's Pond Trail *SOLD OUT*
Meet Perry outside the Vets Hall after the Sunday Morning film session (ending at 12:45pm) and together walk from town to the trailhead.
Join Perry Cohen (Founder of The Venture Out Project, a nonprofit organization that brings LGBTQ folks together outdoors) for a midday hike. We'll hike for about 1.5 hours and will make sure that along the way there is plenty of opportunity to talk with others on the hike, stop for photos, snacks, and rest and enjoy the beauty of Nevada City. The hike is open to everyone. We'll be hiking 1 mile on the trail, with an elevation change of less than 150', and the terrain is easy. Please be sure to bring water, snacks, sunscreen and a rain/warm coat. Capacity: 30 people so that we can minimize our impact on the land, first come first served.
Cohousing Tours with Architect Chuck Durrett – Sunday, Jan. 19
9-10am @ Nevada City Cohousing (200 Redbud Way, Nevada City)
1-2pm @ Wolf Creek Senior Cohousing (800 Freeman Lane, Grass Valley)
Wild & Scenic is proud to be the World Premiere destination for the Official Selection The Best of Both Worlds: Cohousing's Promise. On January 19 from 9-10am, there will be a tour of Nevada City Cohousing (200 Redbud Way, Nevada City) led by the architect, Charles Durrett. Also on January 19 from 1-2pm, a second tour will be offered at Wolf Creek Senior Cohousing (800 Freeman Lane, Grass Valley). Both will last for about one hour. Allow another 15 minutes to also see the gardens. Please park on the street (unless you choose to walk to Nevada City Cohousing for this near town tour.) Don't miss your chance to check out these state-of-the-art sustainable neighborhoods, right in our own backyard.
COFFEE TALKS 
SATURDAY, JANUARY 18 & SUNDAY, JANUARY 19 – 8:30am @ Three Forks
211 Commercial Street – Nevada City, CA
Queer in the outdoors: Why do you even need your own hiking group? – Sat. Jan. 18 @ 8:30am
Since its inception in 2015, The Venture Out Project has led thousands of LGBTQ+ backpackers, hikers, skiers, snowshoers and paddlers on outdoor adventures. In recent years there has been a clear increase in the number of outdoor affinity groups and diverse hikers hitting the trails. Yet we still get the question, "I don't need my own hiking group, why do you? I thought the outdoors was for everyone." Join Venture Out's founder, Perry Cohen, for an informal discussion around queer identity in the outdoors, why so many people have flocked to Venture Out, and why more come every year. No experience necessary, this talk is open to all!
How Filmmakers Work with Composers – Sun. Jan. 19 @ 8:30am 
A good musical score is key for setting the tone of your film—and finding the right composer can be tricky. In this panel, join Founder and Lead Composer of Cleod9 Music Ian McLeod in a conversation with filmmakers and film composers on how they work together to set the scene and what it takes to compose a killer film score.
FIRESIDE CHATS
SATURDAY, JANUARY 18 and SUNDAY, JANUARY 19 – 3:30pm @ Golden Era (21+ venue)
309 Broad Street – Nevada City, CA
A Fireside Conversation with Conservation Filmmaker and Artist, Jenny Nichols – Sat. Jan. 18 @ 3:30pm
Since co-imagining the production arm of the International League of Conservation Photographers (iLCP) in 2008, Jenny has been working to reach beyond the choir with her films.  Bringing stories back from the far reaches of the planet, she thrives on galvanizing support for wildlife and habitat conservation. Recently, she is even more interested in preaching to the choir.  Energizing the community that already cares, is poised to act, and that also needs inspiration. As a Protect Our Winters (POW) Creative Alliance member, Jenny is interested in turning this passion for wildlife conservation into action and encouraging our community to use their voice to vote and get involved.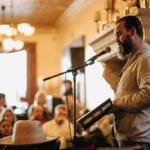 Dialogue with Wild & Scenic Artist, Obi Kaufmann – Sun. Jan. 19 @ 3:30pm
Join Obi Kaufmann, the artist for this year's Wild & Scenic Film Festival, to discuss his process, inspiration, and activism. Obi is the best-selling author of the California Field Atlas and the State of Water, Understanding California's Most Precious Resource, and travels all over the state working on his new books and paintings, meeting with communities and organizations determined to protect California's superlative natural world. At this fireside chat, Obi will be presenting his portfolio of original paintings and offering a selection of exclusive lithographs for sale.
WORKSHOPS 
SATURDAY, JANUARY 18 – 9:30am – 5pm   | SUNDAY, JANUARY 19 – 9:30am – 5pm
City Hall – 317 Broad Street – Nevada City
Activist Center workshops sponsored by:

StoryShift: Moving Away from Extractive Storytelling – Sat. Jan. 18 @ 9:30-11am
StoryShift is an interactive discussion forum to explore the ways we can move away from extractive storytelling and toward a more collaborative and community-informed model. This session will offer a case study of Mossville: When Great Trees Fall as a catalyst for an interactive workshop focused on accountable filmmaking practices. Featuring Alex Glustrom (Director) and Daniel Bennett (Producer) of Mossville and Hannah Hearn, Impact Coordinator at Working Films.
SYRCL – How Citizen Science Works for All: Benefits, Impacts, & Opportunities – Sat. Jan. 18  @ 11:30am-12:30pm
Incorporating citizen scientists into research where only trained scientists were previously believed to be qualified is a growing trend. The immense body of data being generated by citizen-based efforts is proof that citizen participation increases the amount of data collected with similar accuracy to that of a trained scientist. This panel discussion—featuring SYRCL scientists, local community members, and Earthwatch Institute—will center on how citizen scientists increase the capacity of research and monitoring projects both locally and across the world. Featuring Dr. Mark Chandler (Earthwatch Director of Research Initiatives), Sol Henson (Education Program Director at Sierra Streams Institute), and Hazel Goode (Student at Forest Charter School). Moderated by SYRCL's River Science Director, Rachel Hutchinson.
Environmental Protection through the lens of (JEDI) Justice, Equity, Diversity and Inclusion – Sat. Jan. 18 @ 1-2pm
José González, Teresa Baker, Alejandro Lozano, Michael Estrada, Scott Briscoe, Leslie Parra, and Faith Briggs are moving the DEI (Diversity, Equity, and Inclusion) conversation into action. The discussion around diversity and inclusion in outdoor spaces is ever-evolving, and the work needs to catch up. How do we, as an active audience on environmental protection, move forward collectively in the work that is urgently needed?
Regenerative Response to Disaster with Permaculture – Sat. Jan. 18 @ 2:30-3:30pm
Matthew Trumm will share his story of using the skills he developed through Permaculture design to help the people and land recover after the deadly Camp Fire in Paradise, CA— from sourcing and deploying materials for erosion and preventing toxic runoff, to creating "Camp Paradise," the world's first mobile permaculture-based disaster response Ecosystem Restoration Camp model. Learn how it was done, how to get involved, and how to create a similar project in your own neck of the woods.
Finance for the Greater Good: Socially Responsible Investing – Sat. Jan. 18  @ 4-5pm
Grandmother used to say, "Put your money where your mouth is." As a supporter of SYRCL, you already do this. But did you know there are ways within your investment portfolio to put your money to work and support the causes you believe in? Join us for a presentation on the past, present, and future of socially responsible investing and related environmental issues. The session will be hosted by Scott Beesley, Certified Financial Planner®  at Baird Private Wealth Management. Scott is also a member of the Wild & Scenic Program Committee.
Our Water in the Age of Climate Change – Sun. Jan. 19 @ 9:30-11am
Climate Change is here and is the existential threat to our community. But what does that mean for the Sierras, California's valuable headwaters? We are already experiencing a decline in snowpack, atmospheric rivers, increased risk of catastrophic wildfires, and more. A panel of experts in water management and environmental activism will discuss their concerns about impacts on water supply, infrastructure, and our communities as a result of climate change. Join us to learn more about how we can make California's headwaters safe, sustainable, and resilient for all. Featuring: Pablo Ortiz (Union of Concerned Scientists), Tim Washburn (Sacramento Flood Control), Curt Aikens (Yuba Water Agency), Ron Stork (Friends of the River), and Steve Frisch (Sierra Business Council). Moderated by Ashley Overhouse, SYRCL's River Policy Manager.
America's Great Mountain Trails – Sun. Jan. 19 @ 11:30am-12:30pm
Author and photographer Tim Palmer will present a spectacular slide show about his latest book, America's Great Mountain Trails. Many of us know Tim for his ability to connect us to wild rivers, but this time, come and enjoy his scenes of mountain grandeur and hear some of his engaging stories as he takes us on the best among 100 mountain trails featured in his new book. Tim is the award-winning author and photographer of 28 books about the environment, river conservation, and adventure travel, and he speaks to audiences nationwide. He worked as a pivotal consultant to SYRCL in our successful campaign to designate the South Yuba as a California Scenic River. There will be time for lively Q&A and discussion after the slide program.
How Worker Cooperatives Are The Model For A Sustainable Future – Sun. Jan. 19 @ 1-2pm
In September 2019, California Solar Electric Company became the first worker-owned cooperative in Nevada County. Join Cal Solar, Project Equity, and Flying V Farm as they discuss how worker cooperatives are models for a sustainable future by helping cities retain business assets, growing community wealth, and ensuring business longevity.
Citizens Climate Lobby – Local Climate Action: What lights a Spark in You? – Sun. Jan. 19 @  2:30-3:30pm
Are you concerned about climate change but don't know what you can do about it?  Learn about the activities of three organizations addressing different solutions to the climate crisis, and which of them light a spark in you. Justine Quealy of Sierra Business Council, Climate and Energy Department will moderate a discussion including Co-Presidents Shandon and David Schmeiske of 350 Placer, Group Leader Dave Whitehead from Citizens Climate Lobby Nevada County Chapter, Debbie Gibbs of Nevada County Climate Action Now, and Darren Fisher of Nevada County's Sunrise Movement.
Nisenanim ni ("I am Nisenan") – Sun. Jan. 19 @ 4-5pm
Join members of the Nevada City Rancheria Nisenan Tribe as they discuss a new partnership with Nevada City Film Festival and Nevada County Arts Council through the making of a film that addresses the recovery of their critically endangered language. This partnership, in tandem with efforts towards restoring Federal Recognition, is a testament to the whole community effort required to rebuild visibility. Beyond documenting efforts to revive a language previously considered extinct, the Nisenan are looking to their future. Twenty years from now, what will their homelands look like? What are our children being taught in schools about the true history of California? How will we – the broader community – experience Nisenan culture as a critical, valued part of our everyday story?