Featured in the Film Enough for Everyone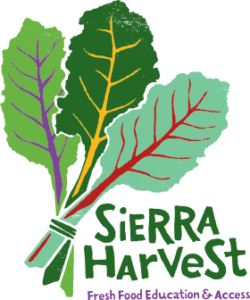 Location: Nevada County, CA
Mission Statement: Transforming Lives and Strengthening Community Through Fresh, Local, Seasonal Food
Organization Description: Sierra Harvest works towards transforming through three primary service areas: Children, Farmers and Community. We teach children to love fresh, local food through providing rich experiences with fresh food, farm and gardens. We train farmers, providing skills in agriculture, business, marketing, mentorship and access to land. Our community programs provide backyard gardens for low-income families, and rescue unwanted farm produce to share it with those in need.
Take Action:
This next generation of children are the first in modern US history to have a shorter life expectancy than their parents. Giving children access to fresh, healthy food is critical to reverse these trends, and here in Nevada County, Sierra Harvest has partnered with 10 superintendents, 26 rural schools and the Chef Ann Foundation to bring about revolutionary change on school lunch trays for 10,000 students in Western Nevada County.
Why does it matter? Because over 50% of the children in Nevada County rely on school meals for the majority of their calories and nutritional needs. Chef Ann Cooper, Founder of the Chef Ann Foundation and renowned Renegade Lunch Lady brings the argument home when she shares the sobering statistic that "One in three children born today will have diabetes in their lifetime…School Food is the social justice issue of our time. Every child deserves fresh, healthy food." She points out that feeding children healthy food should not ever be considered renegade. It's just good common sense for students, communities and the planet. For more information about the Foothills Fresh Scratch Cooked School Meal project please visit www.sierraharvest.org or contact us at info@sierraharvest.org to share your thoughts and join the revolution!
Get Involved: