Northern Alaska Environmental Center
Featured in the film Love is the Way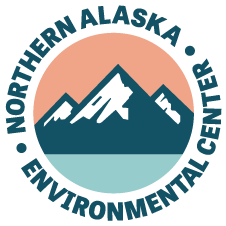 Location: Fairbanks, AK (Traditional lands of the lower Tanana Diné)
Mission Statement: Promoting conservation of the environment and sustainable resource stewardship in Interior and Arctic Alaska through education and advocacy.
Organization Description: Celebrating 50 years in 2021, The Northern Alaska Environmental Center is an Alaska-based conservation organization dedicated to protecting the land, waters and wildlife of Interior and Arctic Alaska for current and future generations to use and enjoy. We understand the unique challenges of living in Alaska and seek to balance natural resource development with conserving what makes Alaska special.
Take Action:
As the new administration takes office, the Northern Alaska Environmental Center is asking people nation wide to contact their representatives and ask them to repeal the 2017 Tax Cuts and Jobs Act, which includes a requirement to develop the Coastal Plain of the Arctic National Wildlife Refuge for oil. As of January 6th, lease sales have been held, and the bidders are now subject to an antitrust review, which typically takes two months. However, it is likely the Trump administration will rush this process in the two weeks prior to inauguration. Contact your congressional representatives and pressure them to overturn this act and protect the Arctic National Wildlife Refuge.
Get Involved: