Wild & Scenic features Obi Kaufmann for 2020 Festival Art
We are thrilled to announce Obi Kaufmann, author of The California Field Atlas and other notable work, is the official artist for Wild & Scenic Film Festival 2020.
Poet, painter, and naturalist Obi Kaufmann blends science and art to illuminate the multifaceted array of the natural world, forming a uniquely elemental narrative based on the shaping forces of earth, air, fire, and water. His beautiful work is an inspiration for our 2020 Festival theme: (Re)generation.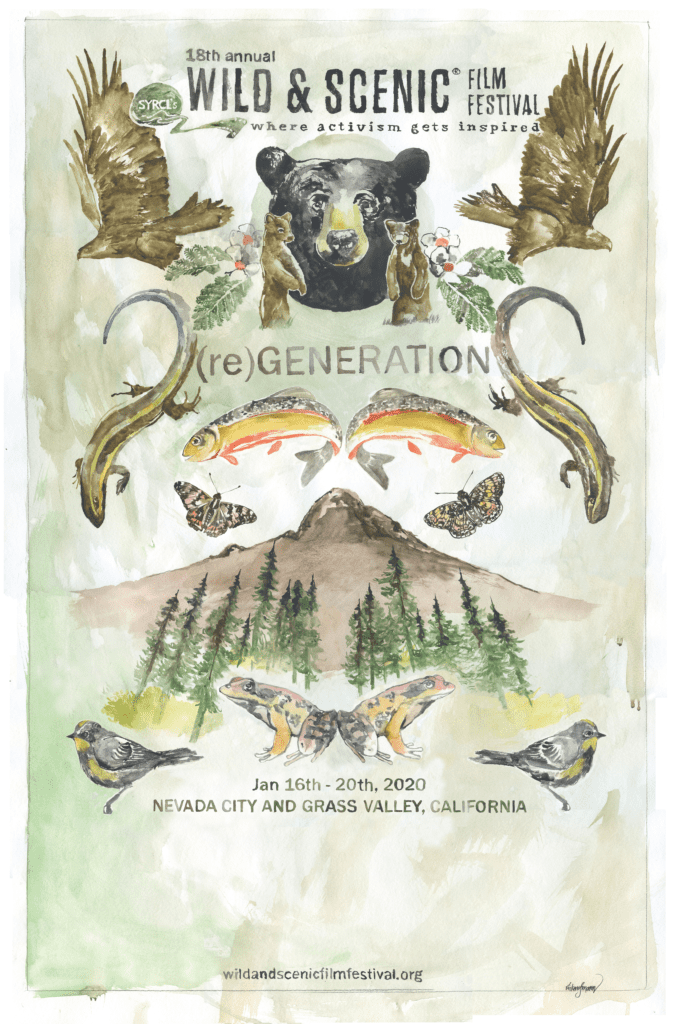 Accolades for The California Field Atlas include the James D. Phelan Award from the San Francisco Foundation (2016), Book of the Year award from the Northern California Independent Booksellers Association (2017), and the Gold Medal for Significant Contribution to Publishing by the Commonwealth Club of San Francisco (2017). Obi's work is featured in the June issue of Sunset Magazine, and his newest book, The State of Water, Understanding California's Most Precious Resource, is now available. Stop by the SYRCL office to purchase your copy today!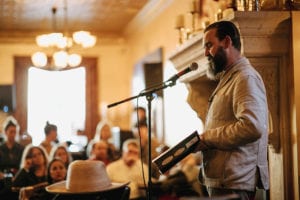 Obi took a moment from his book tour to talk with Wild & Scenic Film Festival Producer Jorie Emory about his work and creative process.
Jorie Emory: Tell us about yourself. Who is Obi Kaufmann?
Obi Kaufmann: I am a painter who has spent his life scrambling through California's backcountry, looking for the story that binds all life together here in this most beautiful of all places—California. I am always thrilled at the local success of my first book The California Field Atlas, published by Heyday in 2017 and am equally honored to say that my follow-up work, The State of Water, Understanding California's Most Precious Resource (Heyday, 2019), has now broke through to find a place on Northern California's bestselling book list. These days, my professional and creative career is now solely about communicating the beauty and intrinsic value I find across all of California's living systems. I have a lot of fun reaching out to the community by posting daily on instagram @coyotethunder and posting weekly essays at www.coyoteandthunder.com.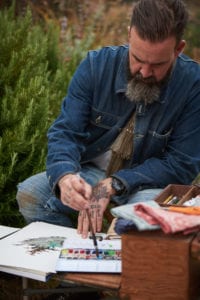 JE: Can you walk us through the artwork you created for the 2020 Wild & Scenic Film Festival? What animals and plants and places are represented and why?
OK: In the painting I created for the 2020 Wild & Scenic Film Festival, I celebrate the forest biodiversity of the northern Sierra Nevada. The mountain depicted is the south face of the Sierra Buttes, near the headwaters of the North Fork of the Yuba River—Kitkitdizze flowers flank the habitat of the Lahontan Trout and halo the Black Bear—Golden Eagles, blue tailed skinks, the endangered Red-Legged Frog, and the yellow-rumped warbler complete this portrait of biodiversity thriving in this beautiful watershed.
JE: Your artwork and writing is often place-based. Can you tell us about your approach to painting and writing about places that are special to you?
OK: California's portfolio of ecographic diversity astounds me at every turn and offers me enough inspiration for a hundred books to come. I could paint a hundred maps, a hundred landscapes, a hundred renderings of plants and animals within and about California's natural world, every day for the rest of my life, and still not have enough time to tell all the story that I wanted to tell.
JE: You and Wild & Scenic Film Festival have somewhat of a shared mission to use art to inspire/galvanize/educate/embolden people towards sustainability and environmental advocacy. How did you discover the intersection of art and activism, and why is it crucial in this moment?"
OK: My activism is the careful tracking of my own journey towards a better understanding of the more-than-human world of ecology and natural history. I know that if I can turn the key inside myself, I can turn the whole world—that is the secret power we all share. This process of understanding, a consilience of all knowledge between truth and meaning, or science and art, is our unfolding destiny and the best shot we've got. People protect what they love, and people love what they know. As we discuss what conservation looks like across our natural legacy in the 22nd century, (and we should be talking about that today) we are beginning to realize that we have the opportunity to leave 21st century California in better shape than we left it at the end of the 20th century. This new paradigm is a function of increased knowledge and supported by the communal telling of a better story of how we may attend to the many responsibilities we have to the world's ecology and how they relate to the democratic rights we all enjoy on a daily basis.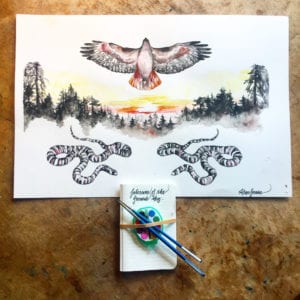 JE: Our Festival's tagline is "Where activism gets inspired." What inspires you?
OK: The people of California inspire me. I spent my youth removing myself from the human world, disappearing into the mountains to seeking solace there from the crushing chaos I felt in the city. This function of my own baggage has, over the decades, been tempered by the emergent paradigm, that despite the fits of politics and media, spreads. There is a new dawn happening right now. I see it in the electric eyes of the hundreds of people I meet every month on tour to support my books. The old ways of extraction of replenishment and development over restoration are being tackled in the creative minds of the young who can see past societal folly with drive and inspiration I can hardly keep up with.
Images courtesy of Obi Kaufmann.