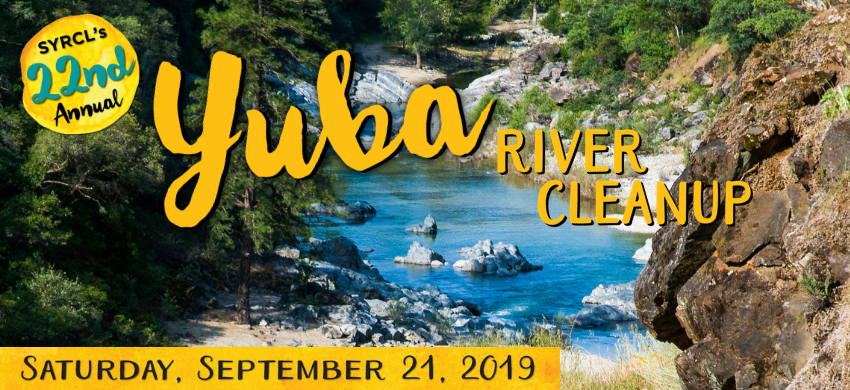 Wild & Scenic Film Festival is proud to be a program of the South Yuba River Citizens League (SYRCL). As SYRCL's largest annual event, our festival–from the films we select to the tour events we promote–all comes back to support protection and stewardship of the Yuba River watershed.
It's time again for the annual Yuba River Clean-a-Thon, and the Wild & Scenic Film Festival team working together to support this major community endeavor to remove tons of trash and foreign debris from the banks and bottom of more than 80 miles of rivers and creeks.
More than 1,000 people will coalesce on September 21 to get wet and dirty at 35 locations on behalf of our beloved Yuba and Bear River watersheds. And we need your help to pull it off.
Please consider giving to the 22nd annual Yuba River Clean-a-Thon. The Wild & Scenic Film Festival has created its own donation page as part of a friendly internal competition among SYRCL departments.
And even though we fully plan on winning, it's more important that the river come out ahead. Thank you for considering the Yuba River in your ongoing giving efforts.
WHEN: Saturday, September 21, 9am-1pm
WHERE: Over 30 sites throughout the Yuba & Bear watersheds
WHEN: Saturday, September 21, 1pm-5pm
WHERE: Pioneer Park, Nevada City
Determine the best Cleanup site for you and your family, or simply explore the Yuba and Bear watersheds, by viewing this detailed map. Sites fill quickly, register to volunteer soon!
You can also support this critical service day and honor the hundreds of volunteers dedicating their time to make the Yuba clean, safe and healthy by joining the Clean-a-thon. Join an existing fundraising team, start your own fundraiser, or simply donate to your favorite team.
All funds raised support SYRCL's Yuba River Cleanup and the summer-long volunteer River Ambassador program. River Ambassadors volunteer throughout the tourist season to educate river visitors about fire safety and responsible river recreation.
Please join us with enthusiasm to help us keep our rivers Wild & Scenic. See you there!