2024 Wild & Scenic Art Exhibition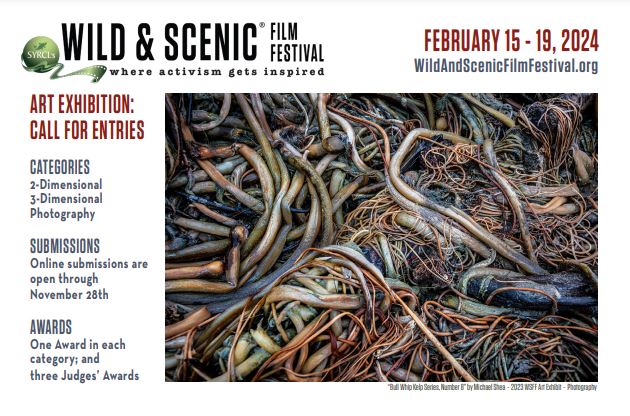 The Wild & Scenic Film Festival, in collaboration with Nevada County Arts Council, invites artists to submit their artwork for possible inclusion at the 22nd annual Wild & Scenic Film Festival, February 15-19, 2024.
Wild & Scenic uses environmental and adventure films to inspire activism, and we are seeking art submissions that do the same. Artists are encouraged to submit pieces that address a broad interpretation of the theme of "environment." The featured artwork enhances the immersive nature of the festival experience.
"We are thrilled to continue bringing this incredible Art Exhibition to our community. Nevada City and Grass Valley are full of amazing artists, and we look forward to showcasing many of them and introducing non-locals to the art scene here," says Festival Director Lívia Campos de Menezes.
---
Exhibition Information
Juried art will be displayed throughout the festival at Grass Valley and Nevada City venues. Western Nevada County is home to more than 100 arts-related organizations producing upwards of a thousand events a year, scores of annual festivals, street fairs, art walks, studio tours, and a generous base of artists and makers. All this and much more is happening in the Grass Valley-Nevada City Cultural District, designated by the California Arts Council as one of 14 cultural districts for our thriving cultural diversity and unique artistic identities within California.
Artists are encouraged to submit pieces that will inspire environmental activism through art and highlight the beauty of the natural world. We are thrilled to provide artists passionate about the environment an opportunity to showcase their best and share a meaningful message conveyed through their unique artistic visions.
---
Submission & Award Information
Categories
Submissions will be accepted in three categories: 3-Dimensional, 2-Dimensional, and Photography.
Artists can submit up to 3 pieces per entry in a single category.
Details about the three categories:
2-D: Paintings, prints, collages, mixed media, and panels with 1.5 inches or less of depth variation
3-D: Sculpture and pieces with depth variations greater than 1.5 inches
Photography: All photography, including digital and film, color, black and white
Artists are responsible for hanging and taking down artwork in the exhibition if selected.
Theme
While all artwork will be considered, we are especially interested in pieces that interpret our theme this year, Reel Action. The theme pays homage to the festival's mission to inspire activism. The aim is to select artworks that are a call to action, inviting audiences to learn about the most pressing environmental problems and initiatives anyone can take to improve the natural world and lives around the globe.
Awards
Selected artists can exhibit their work in person at the 22nd annual Wild & Scenic Film Festival in front of thousands of environmental filmmakers, celebrities, social activists, and attendees. Selected artists will be eligible for the following awards:
Top submission in each category; 2-Dimensional, 3-Dimensional, and Photography
Best of Theme: "Reel Action"
Judges' Awards
The Jury will look for work that stands out within the greater themes of the festival, which is a fundraising driver of the South Yuba River Citizens League (SYRCL), a non-profit organization whose mission is to unite the community to protect and restore the Yuba River watershed. Award-winners will be recognized and presented with certificates at the virtual Artists Opening Reception and Awards Ceremony.
---
2024 Judges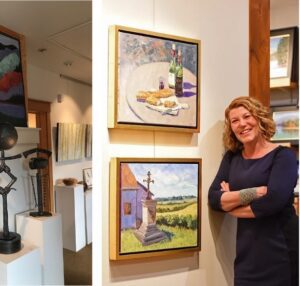 Piper Johnson is an award-winning painter living in Truckee, California, who now brings many of the talents and skills learned in a 20-year career as a hairstylist to her art. As a master hair colorist for many years, her first canvas for her creative expression was coloring hair. Now she uses her love of color and texture to craft bold "en plein air" paintings. She recently relocated Piper J Gallery from Incline Village, NV, to Truckee, CA.
Johnson was a 2023 art judge and was very impressed by the artwork showcased, so she has invited a few artists to exhibit at her gallery since then. She looks forward to discovering new talents in the 2024 Wild & Scenic Art Exhibition.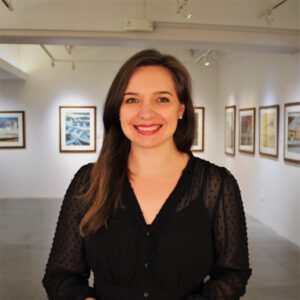 MaryTess Mayall is Executive Director at Blue Line Arts, a vibrant arts center with an exceptional gallery in Downtown Roseville, California. Having lived for some time in the South of France MaryTess majored in Art from Fresno State University with a minor in French.
As an artist herself, she enjoys curating Blue Line's many shows, on and off-site, as well as its diverse programs—drawing inspiration from, and support for, a rich regional ecosystem. More about MaryTess and Blue Line Arts can be found at bluelinearts.org.
Other Judges to be announced.
---
Submission Deadlines & Important Dates:
October 27th – Regular Deadline, $35
November 28th – Late Deadline, $45
February 15 – Art Exhibition/Film Festival begins
If you have any questions about submitting your art, please reach out: info@wildandscenicfilmfestival.org
---