'Uba Seo
Shelly Covert, Alex Felici Forster, Heidi Quante, Greg E. Bernstein, Michael from the River , Mike Decena, Ember Amador, da Fish | 2021 | 10 min.
2022 Official Selection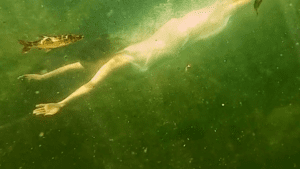 Cultures throughout the world believe Water holds Memory. Many River Cultures also have Water Spirits who sing stories. . . Drawing upon Ancestral teachings of two Rivers: Uba Seo & Rhine River, Uba Seo, is an audio video experience in which Nisenan Culture Bearer Shelly Covert sings the story of Uba Seo in Nisenan to the visiting Rhine River Nixy, who swims deep down into the Rivers Waters to Listen.
For more information: