The Beautiful Undammed
Kitty Hu, Andy Maser, Ben Hamilton, David Murdock, Matt Hill | 2023 | 28 min.
2023 Official Selection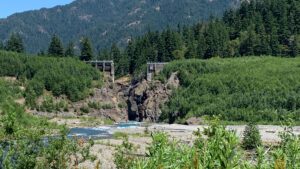 Ten years after the largest dam removal in history—on the Elwha River, in Washington State—scientists are chronicling an inspiring story of ecological rebirth. Recovering salmon populations are transferring critical nutrients from the ocean into the forests along the Elwha's banks, enriching the entire ecosystem. The Elwha's revival is encouraging advocates to push for the removal of many larger dams in the region, and in the rest of the world.
More information:
tangledbankstudios.org