Spirit of the Peaks
Connor Ryan, Tim Kressin, Greg Balkin, Davis Goslin, Hanna Boyd, Len Necefer | 2010 | 41 min.
2022 Official Selection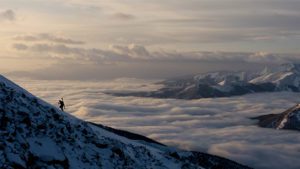 Skiing in Ute Territory has always raised questions for Connor about being in reciprocity with the land and its people. As a skier who connects with the land through sport, he empathizes with the injustices that have displaced the Utes and ongoing colonization, erasure and extraction impacting the Ute people. This story connects conflicted pasts to an awakening in cultural awareness that can create an equitable future for Indigenous people and skiers. Connor's mission with the film is to restore balance with all inhabitants of these mountains by illuminating the Utes' culture and traditional knowledge that can benefit everyone in the fight to preserve the land and dissipating snowpack.
For more information: