Nature's Fear Factor
David Murdock, Jared Lipworth, Sean B. Carroll, Julia Cort, Chris Schmidt. | 2020 | 53 min.
2022 Official Selection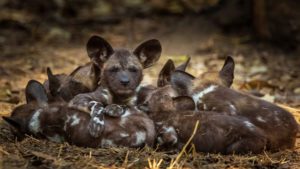 A bold experiment to reintroduce rare and fierce African wild dogs to Gorongosa National Park in Mozambique reveals how predators—and the fear they trigger—play a surprising and crucial role in keeping wild ecosystems healthy. Can Gorogonsa give the wild dogs a new lease on life, and help the park rebound from decades of destruction?
For more information:
https://www.tangledbankstudios.org/our-films/natures-fear-factor | https://www.pbs.org/wgbh/nova/video/natures-fear-factor/