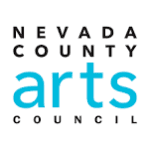 Partnering with Nevada County Arts Council once again is a natural fit since we love showcasing the amazing artistic talent from our region and beyond during the Wild & Scenic Art Show.
Throughout the Festival, juried art can be viewed at venues in both Grass Valley and Nevada City. You can view the art and meet the artists during the Art Strolls in our twin cities, home to more than 100 arts-related organizations producing upwards of a thousand events a year, scores of annual festivals, street fairs, art walks and studio tours, and a generous base of artists and makers. All this and much more is happening in the Grass Valley-Nevada City Cultural District, designated by California Arts Council as one of 14 cultural districts for our thriving cultural diversity and unique artistic identities within California.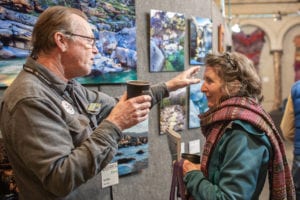 Please join us and help kick off the Wild & Scenic Art Exhibition with an Art Reception and Award Ceremony from 4:30 to 6:30pm on Thursday, January 16th, at our Grass Valley Headquarters, Gold Miners Inn, 121 Bank Street! On Friday, January 17th you can take an Art Stroll in Nevada City from 4 – 6pm, and another in Grass Valley from 3:30 – 5:30pm on Saturday.
Be sure to stop by any SYRCL (South Yuba River Citizens League) booth or Fest Headquarters to pick up a Wild & Scenic Art Guide.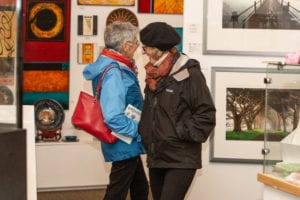 Art Reception & Awards Schedule
Thursday, Jan. 16, 4:30 – 6:30pm
Gold Miners Inn, 121 Bank Street, Grass Valley
Art Strolls
Downtown Nevada City: Friday, Jan. 17, 4 – 6pm
Downtown Grass Valley: Saturday, Jan. 18,  3:30 – 5:30pm
Congratulations to our 2020 Selected Artists! 
Kian Berreman, Chad Brown, Ian Callahan, Jessica Darke, Kerik Kouklis, Karin Rosenthal, Dave Weixelman, Jude Bischoff, Ellen Davis, Eric Dunn, Linda Galusha, Henry Goodman, Jenny Hale, Kial James, Kirk Keeler, Mary Kober, Gail Lipson, Betsy Lombard, Amee Medeiros, Rod Mullen, Leah Newton, Jori Phillips, Rachel Rosenthal, John Seivert, Steve Solinsky, San Juan Ridge Tapestry Project, Kathy Triolo, Bill Wages, Chelsea Weisel, Jim Wilson, Peggy Wright, Frank Francis, LeeAnn Brook, Mike Snegg, Mark Wilcox, Forest Aliya, June Anderson, Molly Jochem, Erin Noel, Kelly Sinclair, Rick Aeschliman, Gary Anawalt, Jim Bair, Don Baldwin, Will Barber, Asja Eckertson, Sylviane Gaumer-Giacoletto, Bill Jacobson, Michelle Jewett, Jeff Litton, Marianne Reger, Jennifer Rugge, Michael Shea, Julian Steinberg, Andie Thrams, Leslie Whitcomb, David McKay, Jeff Pleadwell, Elana Gabrielle, Dick Stoakes, Anya Tuton, Vlatka Varga, Holly Tornheim
This year are lucky to have not one but two featured artists: Forest Aliya & Obi Kaufmann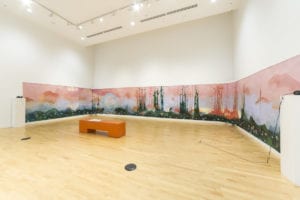 Forest Aliya 
Forest Aliya is an abstract landscape artist residing in Nevada City, CA. She creates work from a liminal space informed by an understanding of the connection between Earth and all living things. "Trees Speak" (acrylic on paper)  is a response to the Camp Fire in 2018. The piece is a contemplation on how light and sound work together along with the elements of nature. View "Trees Speak" at Kitkitdizzi, 219 Broad Street, Nevada City and hear from the artist during the Nevada City Art Stroll, Friday, January 17, 4 – 6pm.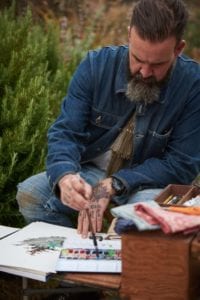 Obi Kaufmann
Poet, painter, and naturalist Obi Kaufmann blends science and art to illuminate the multifaceted array of the natural world, forming a uniquely elemental narrative based on the shaping forces of earth, air, fire, and water. His beautiful work is an inspiration for our 2020 Festival theme: (Re)generation and graces our 2020 Official Festival poster. Watch Obi at work, drawing and painting at Gallery 125, 421 Broad Street, Nevada City on Saturday, January 18, 12 – 3pm. Sponsored by Sierra Nevada Brewing Co., who will be pouring beer tastings in the gallery, the resulting work will be available for purchase in our Auction, closing at 7pm in the Miners Foundry.
Thank you to our 2019 Art Judges: William L. Fox, Michael Llewellyn, Nashormeh N.R. Lindo:
William L. Fox is a writer, independent scholar, and poet whose work focuses on how human cognition transforms land into landscape. In the visual arts, Fox has exhibited text works in more than two dozen group and solo exhibitions in seven countries, serves as the Associate Director of the Nevada Museum of Art, and as the visual arts and architecture critic for the Reno Gazette-Journal. Read more… 
Michael Llewellyn is an award-winning editorial and advertising photographer specializing in environmental portraiture and photo-illustration.  Based in Grass Valley, Llewellyn's current project, FOREST ⇌ FIRE, is an interdisciplinary, multi-sensory, interpretive installation scheduled to debut in October 2020 in Truckee, California. Read more … 
Nashormeh N.R. Lindo is Chair of the California Arts Council. Her work as a renowned photographer, printmaker, and painter has been exhibited both nationally and internationally. As an artist, Lindo's recent work explores the way one medium informs another, utilizing her photographs for surface design on textiles. As an educator, Lindo teaches art classes to children in Oakland and is a former adjunct instructor of African American Art History at City College of San Francisco. Read more…
Nevada City Art Venues
Gallery 125, 421 Broad Street
LeeAnn Brook Fine Art, 231 Broad Street
Miners Foundry, 325 Spring Street
Nevada City Winery, 321 Spring Street
Nevada Theater, 401 Broad Street
Grass Valley Art Venues
Gold Miners Inn, 121 Bank Street
Lucchesi Winery Tasting Room, 128 Mill Street