April 12th Fan Favorites Night (postponed due to COVID-19)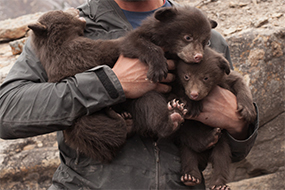 Wild & Scenic Film Festival's Fan Favorite's night will finish out the Nevada Theatre Sunday Night Film Series by highlighting award winners and standouts from the 2020 Flagship Festival.
2020 Student Filmmaker Award winner A Walk Through the Land Of 1,000 Hills (11 min) joins Rwanda National Park Ranger Claver Ntoyinkima as he guides you through one of the most biodiverse places in the world.
This year's People's Choice Award Winner was The Sacramento, At Current Speed (38 min). The Sacramento River is a workhorse, hemmed in by freeways, channelized for agriculture and drinking. But there is also a hidden river, where you can launch a boat and float 300 miles to the sea.
Bears of Durango (59 min) was a real crowd pleaser and one of the most talked about films at the 2020 Festival. Dive headfirst into bear dens with biologists who have spent 6 years investigating why there have been increases in human-black bear conflicts.