Each year our artwork breathes life into the theme and sets the stage for the year to come. This year we're excited to unveil our artwork created by Nevada County local, Brianna French. We hope you enjoy the artwork and learning more about Brianna and her process via this Q&A with her:
Tell us about yourself. Who is Brianna French?
Hi, I'm Brianna, an artist and mother based in Northern California. My art focuses on colorful watercolor landscapes that celebrate the intersection of the natural and the magical. My artistic journey has taken on various forms over the last ten years, from mural installations and graphic design projects, to licensing and selling my original artwork. My creative roots began growing up in Ventura with my mother, a musician, who always encouraged me to follow my creative passions. I was also fortunate to attend a Nashville-based visual and performing arts high school, where my already deep love for art was solidified and expanded.   
During my college years, I pursued a BS in Child Development and Psychology while also delving into coursework in art and design. Along this path, I discovered Waldorf education, and its emphasis on awakening a reverence for nature and beauty within children. This message deeply resonated with me and inspired me to embark on a year of Waldorf teacher training before the birth of my first child. It was during these early years as a mother, with the influence of the arts focused Waldorf curriculum, that I truly rekindled my artistic practice. 
Despite moving away from California during my youth, I often returned to the Sierra Nevada Mountains during summers with my father, and it has always been a place that has felt like home. As an adult, I eventually settled in Grass Valley, California, where I've spent the last decade dreaming, exploring and creating with my husband and two children.
What excited you about making art for WSFF?
The Wild & Scenic Film Festival has captivated my attention year after year. I've often thought I'd love to create poster art for this event, so when I was asked to contribute to the 2024 film festival poster, my response was an emphatic YES! WSFF's commitment to highlighting environmental and social issues aligns with my core values as an artist and I'm thrilled to contribute to their mission by helping gain interest in this event through their promotional art.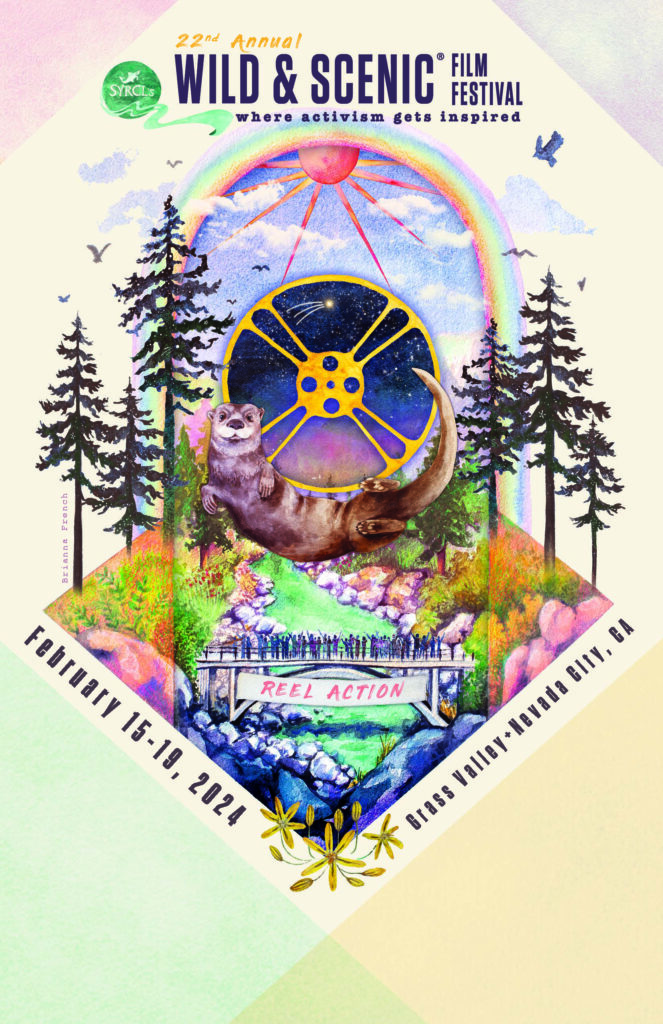 Can you walk us through the artwork you created for the 2024 Wild & Scenic Film Festival? What elements are represented and why?
For the 2024 festival poster art, I created a piece with this year's theme "Reel Action" in mind. I wanted to make something that felt captivating, whimsical and hopeful. The artwork took shape with layers of geometric structures, weaving day and night, realistic and fantastic. River otters have recently been repopulating the Yuba River watershed. So amidst this dreamscape, a little river otter looks out representing optimism and invitation. Humans on a bridge over the Yuba River are in the midst of conservation action, asking us to join the fight, their presence embodying the spirit of engagement. The entire scene unfolds beneath the glow of a sunlit sky, with towering pine trees, graceful birds in flight, and soft clouds. I hope the art serves as an invitation to step into this world of environmental action, to feel the magic of nature's beauty, and to embrace the optimism of positive change for our planet… or at the very least that it inspires someone to go see some great films! 
Much of your artwork often revolves around nature. Can you tell us about your approach to painting/creating and why those forms are important to you and your work?
There's a special magic that lives in nature—in the crystalline waters, colorful skies, and timeless trees. As I create, I try to connect with the ways we remember natural beauty, the feelings, and dreamy images that arise when reminiscing about the clear blue waters, the vibrant orange sunsets, and the striking fall trees. I also find inspiration in the ethereal dance of seasons, celestial bodies, and ecosystems that exist all around us. Using the Sierra Nevada landscapes, plants and animals as my muses, my process begins with reference photos and compositional sketches. I use geometric structures and starscapes to weave in a feeling of sacred interconnectedness and timelessness. I combine these structures, images and sense memories with the intention of translating them into vibrant compilations of the natural and mystical worlds. I use saturated color palettes and energetic colored pencil textures to convey the ineffable aliveness of these sacred rivers, trees, lakes, and vistas. My hope is that when people see my work, they don't just perceive a pretty landscape but feel the reverence for nature's beauty and mystery within themselves.  
How does being a woman in Northern California and Nevada County inform your artwork?
My most profound experience of being a woman in Northern California is being a mother here. Mothering in this community has been a joy. I feel so held and supported by our small rural community and especially by the other mothers who I have come to call my closest friends. These women are the ones who have encouraged me along the way and who continue to support my art career at every step. I'm immensely grateful to the incredible women in our community like Kaiya from Kaiya's Naturals in Nevada City and Aria at Make Local Habit in Grass Valley, who have showcased my art in their shops and to local artist Sarah Coleman, who has included me in numerous mural projects. I am so grateful to these women, as well as so many others in our community, for believing in me and encouraging me to pursue art as a career. Many of my customers are women and mothers and I feel inspired by them to continue making things that make their everyday lives a little more beautiful and connected to nature.
What do you think about the intersection of art and activism, and why might it be crucial in this moment?
I believe the intersection of art and activism is important because art has the unique ability to convey complex messages and emotions. In this critical moment for our planet, art can serve as a powerful catalyst for change, inspiring people to take action and protect our environment in real and meaningful ways.
Our Festival's tagline is "Where activism gets inspired." What inspires you?
I feel inspired by the potential for positive change that arises from collective action. The saying "many hands make light work" is very true. What feels overwhelming and unachievable to one, can turn into meaningful and effective work in the context of community.  The idea that through art and shared activism, we can inspire individuals and communities to come together, engage in meaningful action, and create a better future is a profound source of motivation. 
What does our theme this year, "Reel Action" mean to you, and how is it represented in this piece?
To me "Reel Action" signifies not only taking action but doing so with a sense of urgency and purpose. In my artwork for the festival, I aimed to capture the spirit of "Reel Action" by creating a vibrant scene filled with elements that convey a call to action and a sense of optimism. The river otter symbolizes the resilience of nature. The humans on the bridge embody the spirit of involvement, urging us to join their efforts. The sunlit sky and the natural surroundings evoke a feeling of hope and the potential for positive change. In essence, "Reel Action" is about inspiring action and fostering a belief in the possibility of a better future.
Can you tell us about some of the other projects you've created/are working on?
I am deeply honored to have worked with Sarah Coleman, Miles Toland, and Amanda Ashley on the Historic Nevada Theater Mural in 2020, a project that will always be a highlight of my artistic journey. In 2022, I had the deep honor of participating in the Visibility Through Art project, uniting local artists with the Nevada City Rancheria Nisenan Tribe to create a meaningful collection of artworks addressing the Tribe's chosen themes for the broader community. Currently, I'm working on a series of seasonal watercolor collage landscapes that will soon be available as prints and calendars. I'm also excited to announce the upcoming release of a limited edition print featuring art from this year's Wild & Scenic poster, with a portion of the proceeds going to support the South Yuba River Citizens League's vital conservation efforts.
How can people see more of your artwork? Is there anything else you'd like to share with our audience?
You can view more of my artwork on my website, briannafrenchart.com, and follow me on Instagram @briannafrenchart for updates on my latest projects. I'd like to thank the Wild & Scenic Film Festival for their dedication to environmental causes and encourage everyone to engage with art as a catalyst for positive change.