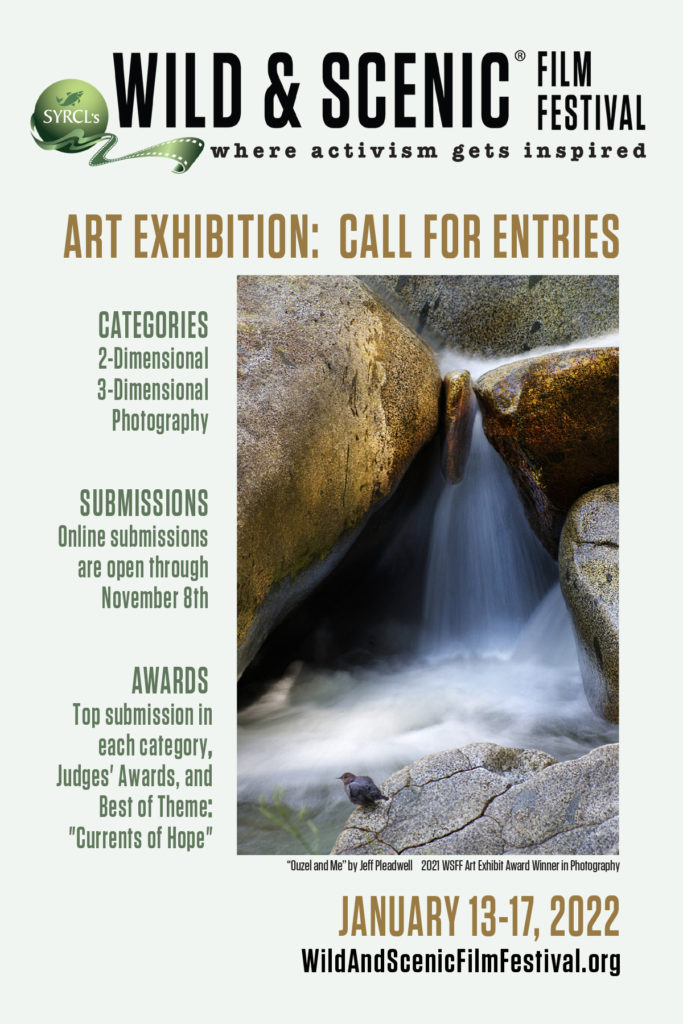 The Wild & Scenic Film Festival, in collaboration with Nevada County Arts Council, is once again inviting artists to submit their environmental artwork for possible inclusion at the 20th annual Wild & Scenic Film Festival, taking place January 13-17, 2022.
Wild & Scenic uses environmental and adventure film to inspire activism and we are seeking art submissions that do the same. Artists are encouraged to submit pieces that address a broad interpretation of the theme of "environment." The featured artwork enhances the immersive nature of the festival experience.
"We are thrilled about bringing the Art Exhibition back to Nevada City and Grass Valley for a virtual and in person festival experience," says Festival Programmer, Jess Swigonski. "I look forward to seeing what creations our vibrant community of artists and makers have in store for our 2022 Call for Art."
---
Exhibition Information
Throughout the Festival, juried art will be displayed online (as well as at venues in both Grass Valley and Nevada City as plausible). If regulations allow, attendees will also be able to view some of the art and meet the artists during the Art Strolls in our twin cities. Western Nevada County is home to more than 100 arts-related organizations producing upwards of a thousand events a year, scores of annual festivals, street fairs, art walks and studio tours, and a generous base of artists and makers. All this and much more is happening in the Grass Valley-Nevada City Cultural District, designated by California Arts Council as one of 14 cultural districts for our thriving cultural diversity and unique artistic identities within California.
Artists are encouraged to submit pieces that will inspire environmental activism through art and highlight the beauty of the natural world. We are thrilled to provide an opportunity for artists who are passionate about the environment to showcase their best and share a meaningful message conveyed through their unique artistic visions.
---
Submission & Award Information
Categories
Submissions will be accepted in three categories this year: 3-Dimensional, 2-Dimensional and Photography.
Artists can submit up to 3 pieces per entry in a single category.
Details about the three categories:
2-D: Paintings, prints, collages, mixed media, and panels with 1.5 inches or less of depth variation
3-D: Sculpture and pieces with depth variations greater than 1.5 inches
Photography: All photography, including digital and film, color, black and white
Artists are responsible for hanging and taking down artwork in the exhibition if selected.
Theme
While all artwork will be considered, we are especially interested in pieces that interpret our theme this year, Currents of Hope. The theme speaks to momentum toward a brighter future.  In aligning ourselves with this theme, we envision a hopefulness that is grounded in real and measurable action, constantly moving us forward like the mighty rivers that are the lifeblood of this planet. 2022 marks the 50th anniversary of the Clean Water Act, a bedrock environmental law governing water quality in the United States. As Wild & Scenic reflects on our own milestone with 20 years of inspiring activism, we are excited to tap into our roots as an event that benefits our own local watershed. "Currents of Hope" celebrates a vision of a healthy, thriving planet regenerated by the unstoppable flow of compassionate communities who share in this dream.
Awards
Selected artists will have the opportunity to exhibit their work in person at the 20th annual Wild & Scenic Film Festival in front of an audience of 8,000 environmental filmmakers, celebrities, social activists and attendees. Selected artists will be eligible for the following awards:
Top submission in each category; 2-Dimensional, 3-Dimensional, and Photography
Best of Theme: "Currents of Hope"
Judges' Awards
The Jury will look for work that stands out within the greater themes of the festival, which is the primary fundraising driver of the South Yuba River Citizens League (SYRCL), a Nevada City-based non-profit organized to unite the community to protect and restore the Yuba River watershed. Award-winners will be recognized and presented with certificates at the virtual Artists Opening Reception and Awards Ceremony.
---
Judges
We are thrilled to welcome these highly qualified judges to join us for our 2022 Wild & Scenic Film Festival art exhibition! The 2022 art judges are:
Joshua Harrison is a filmmaker, educator, and co-director of the Center for the Study of the Force Majeure, bringing together artists, scientists, engineers, planners and visionaries to design regenerative systems and policies that address climate change. Harrison leads the Living Forests Project, a multidisciplinary group working to build a systems approach to the fire and water crises in California. He is co-founder and artistic director of the St Barth Film festival, now celebrating its 25th season, and an early advisor to Nevada County Arts Council's FOREST⇌FIRE project, the culminating exhibition for which runs concurrently to the 2022 Wild and Scenic Film Festival.
Consuelo (Chelo) Montoya is an artist, educator, and cultural producer. She is the Assistant Vice President of Adult Education and Public Programs at the Los Angeles County Museum of Art where she oversees the music, film, docent and public programs. She previously served as Director of Education and Public Programs at the California African American Museum. She was the founding administrator and faculty member in the Master of Public Practice program at Otis College of Art and Design, contributing to the development of the program over the course of a decade. Chelo received her undergraduate degree in Fine Art from the University of California, Santa Cruz, her M.A. in Public Art Studies from the University of Southern California, and an MFA in Graphic Design at Otis College of Art and Design, with much of her work dedicated to issues of water and climate change. She has worked with local artists to produce the SELA Arts Festival in Southeast Los Angeles since it began in 2018. Chelo sits on the Board of Trustees executive committee of the Vincent Price Art Museum and is a council member for the California Arts Council.
John Natsoulas is the owner of The John Natsoulas Center for the Arts in Davis, California, the longest running gallery in the region. Established over three decades ago, the gallery has earned numerous honors, supported emerging artists, and advanced fine art with its dynamic and forward-thinking concern. Today, the Center continues in this direction, producing historical and high-profile exhibitions, publishing hundreds of artists' catalogs and books, hosting educational conferences, and spearheading the country's first Transmedia Art Walk in downtown Davis, with its fifty plus sculptures and murals by local artists. John Natsoulas is also a curator, lecturer and expert on the Beat Generation and Funk Art Movement. He runs the largest art book publishing company on the west coast, John Natsoulas Press, as well as being the founder of the annual California Conference for the Advancement of Ceramic Art (CCACA) and the annual Art of Painting in the 21st Century Conference.
---
Submission Deadlines & Important Dates:
July 15 – Call for Art opens
October 29 – Regular Registration Deadline, $30
November 12 – Extended Deadline, $45
December 15 – Jury Notifications Sent
January 13 – Art Exhibition/Film Festival begins
If you have any questions about submitting your art, please reach out: info@wildandscenicfilmfestival.org
---