We couldn't do it without our incredible volunteers!  Because we value the time and commitment of our volunteers, we are pleased to offer some perks to sweeten the deal and say thank you.
Volunteer Tickets

We rely on our volunteers to make this event happen and have tremendous gratitude for you!
Therefore, as our thanks for your time, we offer complimentary session tickets for our virtual festival.
1 volunteer shift = 1 virtual session ticket
2 volunteer shifts = 2 virtual session tickets
3 volunteer shifts = 3 virtual session tickets + 25% off tickets for in-person single session
4 volunteers shifts = 5 virtual session pass + 25% off tickets for in-person single session
Tickets will be available online.  We will send you an access code the week of the festival to redeem your volunteer session ticket/s for our online virtual festival running Jan. 13th-23rd.
Virtual Session Tickets – allow access to our online film festival streaming film sessions from Jan 13-23rd. 
In-Person Session Ticket – allows access to our theaters from Jan 13-16th.  Theaters will be filled at half capacity in 2022.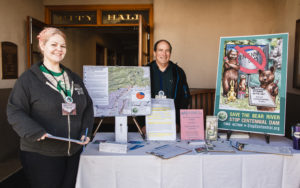 PLEASE NOTE:
Due to limited theater capacity, we will not have full festival passes for guests in 2022.
Volunteer tickets will not be available for our in-person film sessions due to limited capacities for 2022.  Thank you for your understanding!
Session tickets are not for pick-up but for online registration only.
A week before the festival you will receive a passcode to redeem your virtual session tickets online.
The Virtual Festival Film Festival runs Jan 13th-23rd, 2022 all virtual volunteer tickets are redeemable during this time.
If you have any questions, please contact Jamie, our Outreach & Education Coordinator, [email protected] or 530-265-5961 x212.
---
Volunteer Lounge
Our Volunteer Lounge is located in Nevada City, at the Miners Foundry 325 Spring Street.  Volunteers may swing by and pick up a drink and snack to stay fueled while on shift.  We will have coffee, tea, and light refreshments throughout the weekend.